Skip Navigation
Design, Build, Create and CODE!
Stony Brook Launches 24-hour Hackathon
By Lise Ho, Class of 2019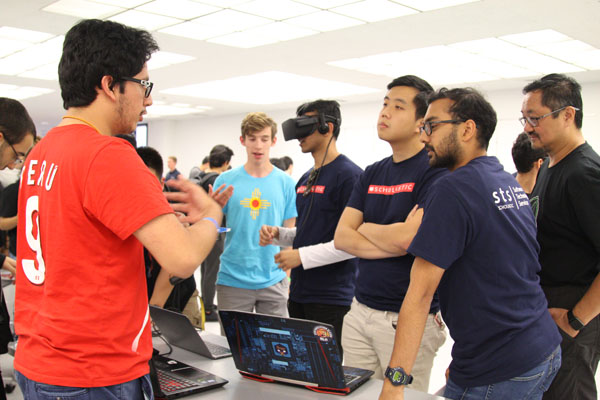 Caption: Manuel Carbajal, sophomore CS major, speaks to representatives from Scholastic about his project SolVR, a virtual reality app created to teach students mental math. His team which consisted of Carbajal, Victor Lin, Spencer Williams, and two students from Farmingdale State College won Scholastic's Best Educational Hack.
Over the past several years, a steadily increasing number of Stony Brook students have been attending student hackathons across the nation. A hackathon is a 12-48 hour event where "hackers" gather together to compete and work on new projects to build on their passions and technical skills.
Major League Hacking (MLH) is the official student hackathon league which has transformed student hackathons globally. Jonathan Gottfried, a Stony Brook alum from the class of 2011 and recently named to Forbes "30 Under 30," co-founded MLH. Despite that fact, one question always remained unanswered in a Stony Brook hacker's mind:
What is Stony Brook's official MLH hackathon?
At last SBUHacks, a new 24-hour hackathon, was established here at Stony Brook this fall.  On September 14-15th, 2018, students from Stony Brook and other schools gathered in the Central Reading Room of the Frank Melville, Jr. Memorial Library and worked together in teams to make their ideas come to life and to design, build, and code cool technology projects.
"I am truly inspired by our students' commitment to innovating with technology along with their passion for creativity, entrepreneurship and fun," said Fotis Sotiropoulos, Dean, College of Engineering and Applied Sciences.  "Their work in both organizing and participating in SBUHacks is exemplary of the kind of students we have in the College of Engineering and Applied Sciences - the global innovators and social entrepreneurs of tomorrow."
Why were students so interested in participating in this hackathon?
Rahul Sondhi, SBUHacks co-organizer and a junior computer science major said, "When you leave the bounds of the classroom your imagination, innovation, and thoughts and ideas take form into a project that you probably never would have seen before if you just sat in class all day."
Students know that, and companies that sponsored the hackathon also understand this too. Sponsor companies sent representatives to serve as mentors and to network with students. In addition, SBUHacks featured a series of company-led and student-run workshops to help teach participants more than just new programming languages, but important skills that they can apply to their future careers. SBU alumni working in the field came back to campus to help out as mentors and sponsor representatives, including Jon Gottfried of MLH, Alexander Dimitriyadi, CTO of Nooklyn, and Moiz K. Malik, Chief Design Officer of Nooklyn.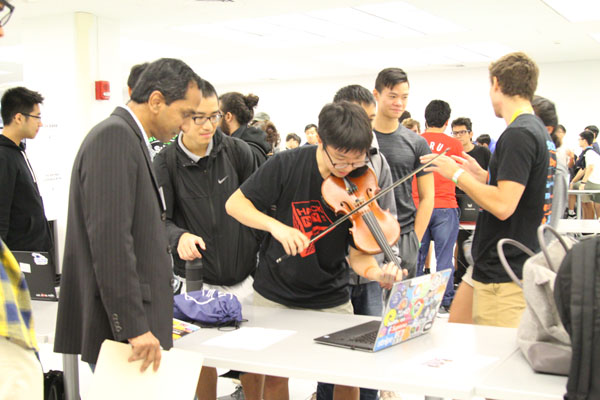 Caption: Jihu Mun, sophomore CS major, demos his team's hack, Music Keys - an application that mapped violin microphone pitch to keystrokes in order to play a Pokemon game. Music Keys was built by a Stony Brook team consisting of Mun, Lukas Velikov, Ricky Chen and Lincoln Nguyen and won Funniest Hack.
From machine learning hacks, to security hacks, to game hacks, SBUHacks - a space-themed hackathon, inspired many creative hacks and brought a new energy and a stronger hackathon culture to campus.
"Both the range and quality of the programming projects the students did are impressive," said Samir Das, Chair of the Department of Computer Science.  "They range from web programming developed by students new to programming to sophisticated graphics projects with interactive control."
As students teamed up to compete for prizes, SBUHacks added the fun with a surprise buffalo wings midnight snack and activities like a pancake decorating contest and a scavenger hunt. Fueled by Soylent, coffee, and a lot of snacks, participants stayed up all night to finish their hacks.
"The renewed vision of evolving library spaces is one that fosters and encourages students' creativity and originality in a collaborative learning environment; one that encourages experimentation with technology, development of fresh ideas, and student engagement in innovative ways," said Shafeek Fazal, Interim Dean of University Libraries at Stony Brook University.  "SBUHacks epitomizes this vision, and it was so rewarding to see such a gathering of students in the Library on a Friday night."
SBUHacks would not have been possible without the unified support from students, alumni, faculty, and staff. Staff members and students from participating student organizations volunteered their time throughout the 24 hours to make the hackathon flow as flawlessly as possible.  
Kamile Demir, SBUHacks co-organizer and a sophomore computer science major noted, "While working on SBUHacks, I have seen students grow closer, not only to their passions, but as a community. This is exactly what the Stony Brook campus needed to unite students of all fields and backgrounds who love tech." Aside from helping organizing the event logistics of SBUHacks, Demir also designed all the assets and logos used for SBUHacks.
The tremendous support from administration from the College of Engineering and Applied Sciences, Department of Computer Science, Stony Brook Libraries, and DoIT (Division of Information Technology) was crucial in making SBUHacks a big success. It was also thanks to the hard work of the College of Engineering Applied Sciences Advancement team, who worked tirelessly to bring together the team that made SBUHacks a reality, including student organizers Rahul Sondhi and Kamile Demir, Stony Brook Computing Society, Women in Computer Science, and Stony Brook Robot Design Team.
The goal is for SBUHacks to become an annual event that all of Stony Brook can feel excited and proud about each year. Thanks to the tremendous support of the university, with SBUHacks, students will be able to attend hackathons knowing there is a hackathon back home that they can be proud to call their school's.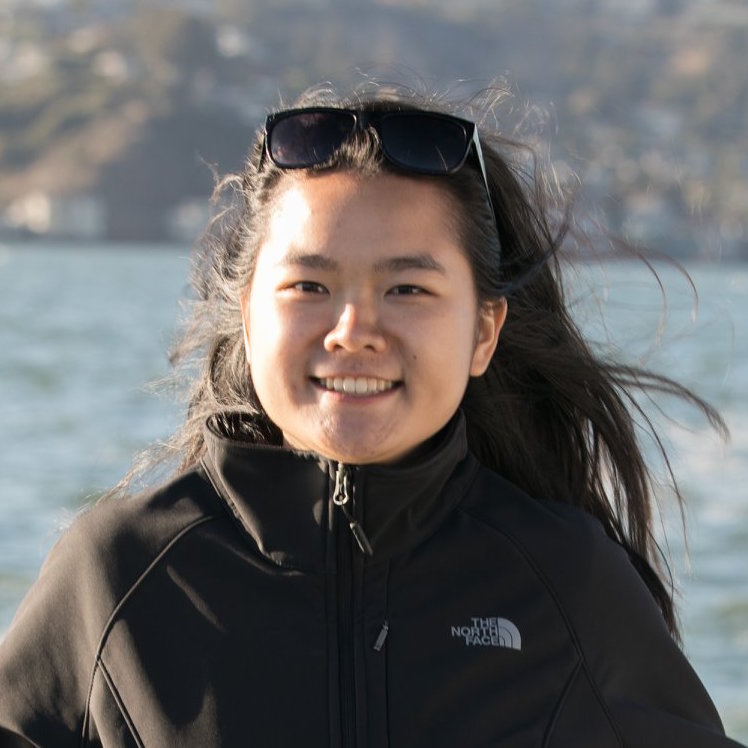 About the Author: Lise Ho is a senior in the Department of Computer Science. She is the President of the Stony Brook Computing Society, and also a member of the CS Honors Program. She is the first Kleiner Perkins Fellow to be ever selected from Stony Brook University. Upon graduation, she hopes to work as a software engineer and to devote her free time to help empower passionate technologists like herself.