Skip Navigation
Rigoberto Burgueño Joins CEAS as Chair of Civil Engineering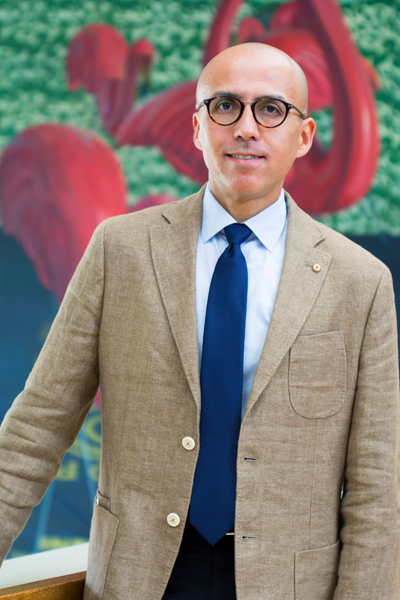 Professor Rigoberto Burgueño has joined our faculty as Chair of the Department of Civil Engineering, effective September 1, 2018.  He joins Stony Brook from Michigan State University (MSU), where he was Professor in the Department of Civil and Environmental Engineering, Adjunct Professor in the Department of Mechanical Engineering and founding Director of the MSU Civil Infrastructure Laboratory.
Professor Burgueño's expertise is in the areas of structural mechanics and structural engineering. His research has led to innovative demonstration projects in civil infrastructure, structural design guides and recommendations, and patents on bio-based materials and energy harvesting devices. At MSU, he co-designed and was founding Director of the Civil Infrastructure Laboratory, a facility dedicated to experimental research on materials and large-scale structures, and served in a variety of administrative and leadership roles. He is associate editor of the Journal of Structural Engineering and editorial board member of the Journal of Composites for Construction. Rigoberto has been the recipient of several teaching and research awards, including MSU's Teacher-Scholar Award, MSU's Withrow Teaching Excellence Award, and the CERF Charles Pankow Award for Innovation. He received his BS in structural engineering and his MS and PhD in engineering sciences with specialization in structural engineering, all from the University of California, San Diego.
"I am privileged to have Rigoberto join us at this exciting time, to continue the momentum and partner with me and our outstanding faculty to build this young but growing department, both in enrollment and rankings," said Fotis Sotiropoulos, Dean, College of Engineering and Applied Sciences. "Our entire faculty and staff joins me in welcoming him to Stony Brook and to the College of Engineering and Applied Sciences."
Our Department of Civil Engineering, which graduated its first class in 2016, made great strides under Founding Chair Hal Walker, who recently left Stony Brook and is now the Schwaber Professor of Environmental Engineering in the Department of Civil and Environmental Engineering at Worcester Polytechnic Institute (WPI).  During his time as Chair, Hal secured more than $10 million in external research funding for the Department since 2013, while also serving as co-Director of the New York State Center for Clean Water Technology here at Stony Brook.