Skip Navigation
Esther Takeuchi Wins European Inventor Award for Her Compact Batteries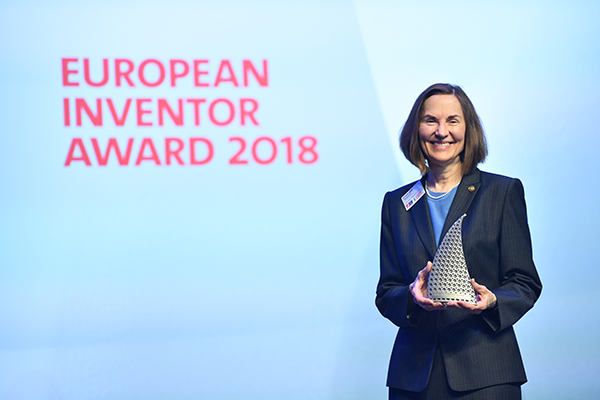 The College of Engineering and Applied Sciences is proud to announce that Esther Takeuchi, one of the world's leading energy storage researchers, and a SUNY distinguished professor in the Department of Materials Science and Chemical Engineering, has won the 2018 European Inventor Award in the category "Non-EPO countries." The European Patent Office (EPO) announced the winners of its 2018 innovation prize at a ceremony in Paris on June 7. Out of four U.S. scientists nominated for the award, she is the only American to bring home Europe's most prestigious prize of innovation.
"Esther is a world class scholar and an ingenious and prolific inventor whose work has saved millions of lives.  I could not imagine of anyone better deserving of this prestigious honor," said Fotis Sotiropoulos, Dean of the College of Engineering and Applied Sciences.  "I am enormously proud to have a researcher of her caliber in our college."
Professor Takeuchi invented the compact batteries that power most implantable cardiac defibrillators (ICDs). Used by millions of patients, ICDs greatly reduce incidence of heart attack by delivering life-saving shocks. Her design extended battery life significantly and reduced the frequency of battery replacement surgeries for patients already at risk due to heart problems. The lithium/silver vanadium oxide battery is just one of Sans Takeuchi's 150 patents, making her one of the country's most prolific women inventors.
"We took on the almost impossible challenge of developing a battery that would last five years, and have one million times higher power than the pacemaker battery," said Takeuchi. "We achieved this through several innovations — a new cathode material, a highly conductive electrolyte, and a novel cell design that enabled high power."
Takeuchi — who holds a joint appointment at Brookhaven National Lab and Stony Brook University, is credited with more than 150 U.S. patents — is directing a U.S. Department of Energy  $10 million Energy Frontier Research Center award  to drive her research in alternative battery systems that aren't dangerous to the environment, but still boast high-energy, power and lifespan capabilities.
Takeuchi is a member of the US National Academy of Engineering and was awarded the prestigious National Medal of Technology and Innovation in 2010 by President Obama. After 40 years in industry and academia, she continues to work at the forefront of battery technology innovation.
The European Inventor Award is presented annually by the EPO to distinguish outstanding inventors from Europe and around the world who have made an exceptional contribution to social development, technological progress and economic growth. The winners were chosen by an independent international jury from a nomination list of more than 500 individuals and teams of inventors put forward for this year's award.