Despite significant investment in research and the 'War on Cancer' launched in the 1970's, cancer remains among the top causes of death for Americans. The College of Engineering and Applied Sciences (CEAS) in partnership with the School of Medicine and the Stony Brook Cancer Center has embarked on an ambitious journey to advance convergence science taking aim at cancer. Dubbed by some as the "the third revolution in medicine,"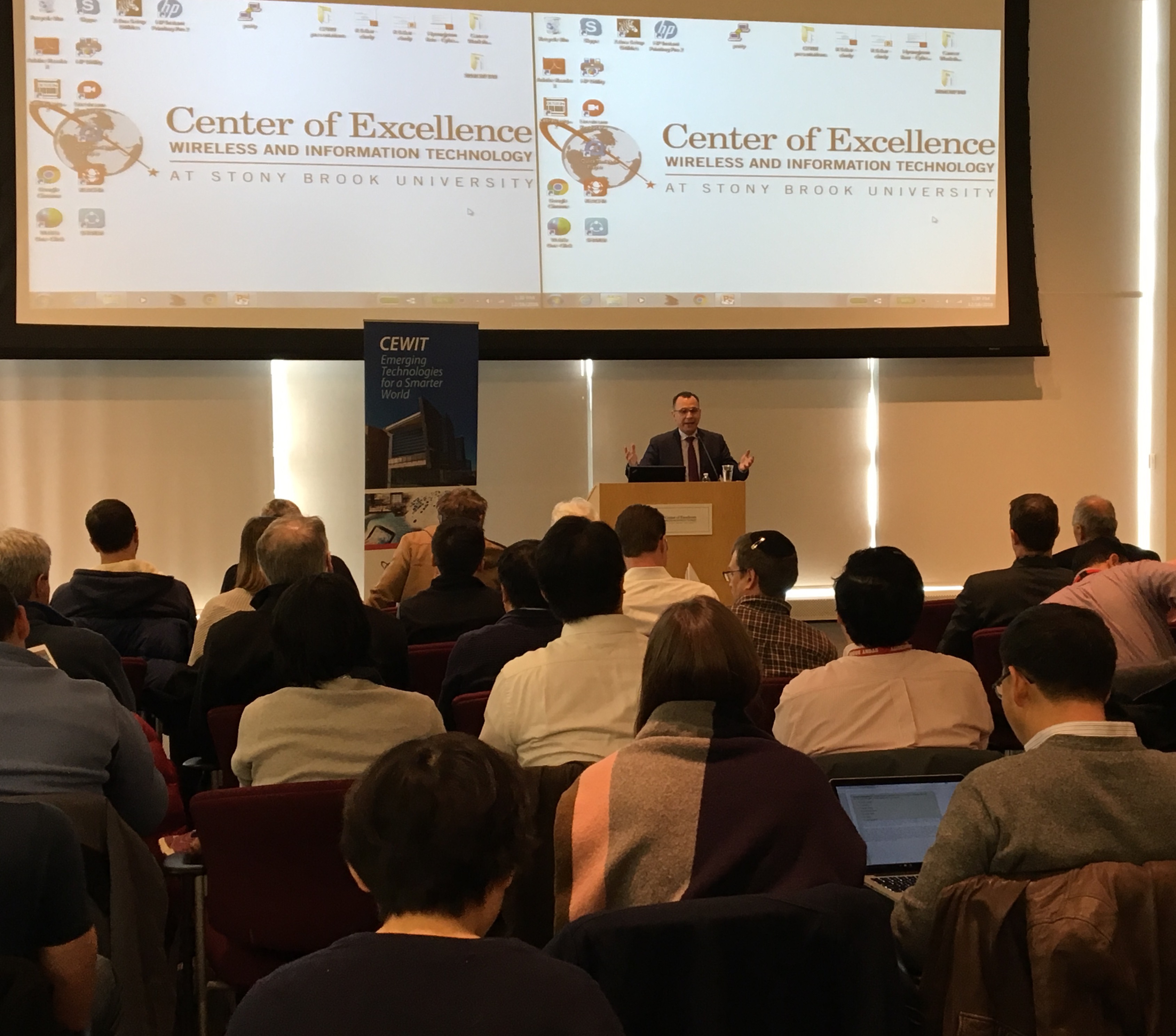 convergence science seeks to integrate medicine and biology with engineering, applied mathematics, big data, and computer science to confront some of the big unanswered questions on cancer and help generate revolutionary personalized therapies.
On December 16, 2016 a gathering of clinicians, scientists and engineers convened at the Stony Brook University Research and Development Park to share ideas, stimulate creative collaboration and kick off a seed funding campaign for interdisciplinary cancer research. The workshop, co-organized by CEAS, Stony Brook Cancer Center, School of Medicine, The Laufer Center for Physical & Quantitative Biology, and the Office of Vice President of Research, included opening remarks from:
Fotis Sotiropoulos, Dean of the College of Engineering and Applied Sciences
Kenneth Kaushansky, MD, Dean of School of Medicine
Yusuf Hannun, MD, Director, Stony Brook Cancer Center; Vice Dean of Cancer Medicine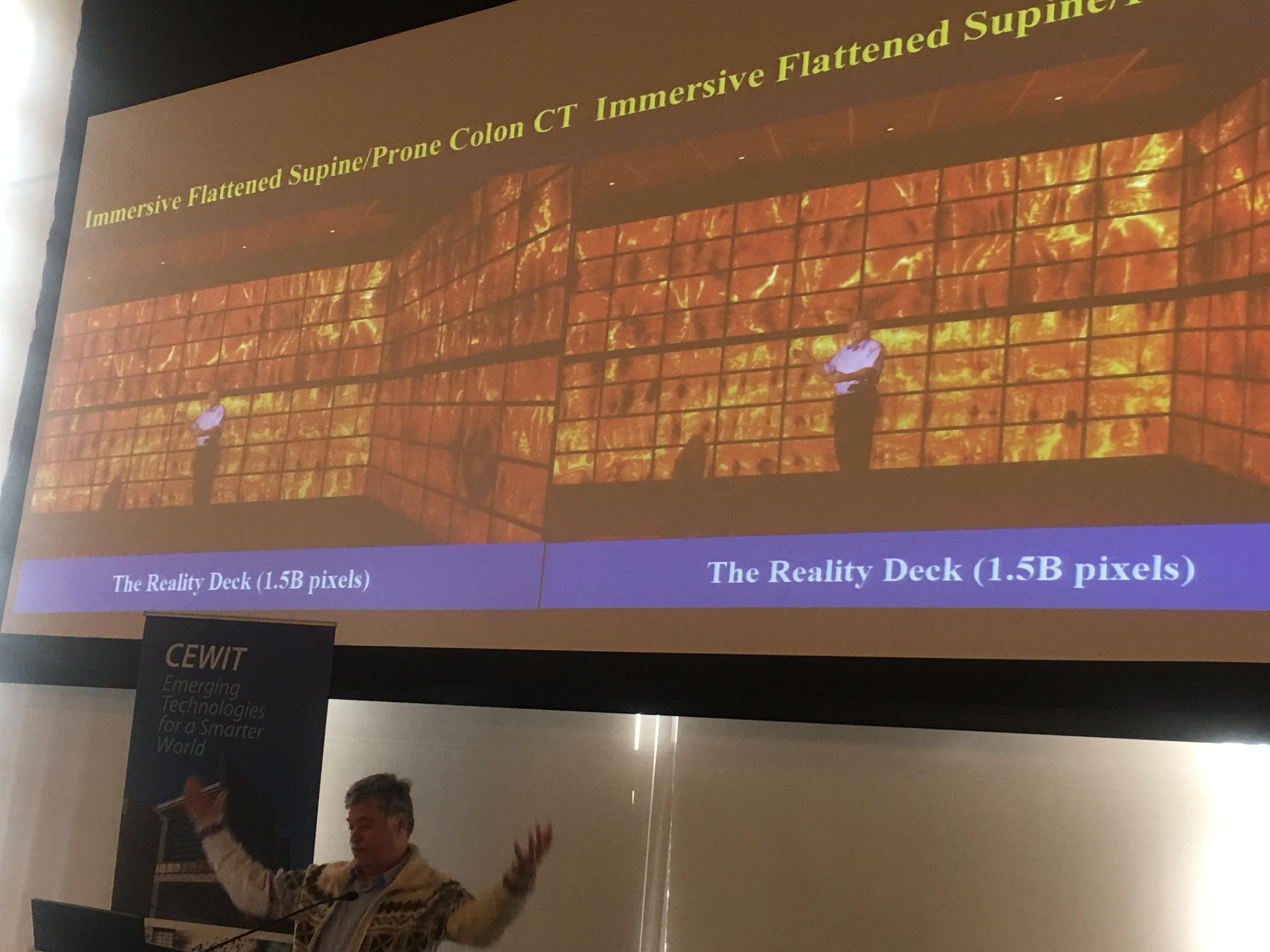 To underscore the increasing importance of convergence science in cancer research, what followed was a spirited session of "science speed-dating" with five-minute presentations from esteemed Stony Brook faculty across disciplines – a real-time demonstration of the breakthrough research at work here at Stony Brook.
Ever imagine seeing a computer science professor navigating the inside of a human colon - virtually? Using the Stony Brook Reality Deck, a colonoscopy requires less-intensive prep, no anesthesia, and a low-dose CT scan. Stony Brook is pioneering modern imaging and visualization techniques that can help diagnose cancer far more effectively than ever thought possible. In the same vein, findings critical to cancer prevention are being culled and analyzed by computational models and artificial intelligence, thanks to modern big data techniques. Mechanical measurements are being employed to detect cancer at a single cell level. This is just a sampling of the life-altering research and development at work at Stony Brook University, as part of a convergence of disciplines aimed at finding solutions to large-scale challenges – those that can't be tackled by one area, but only in tandem with the others.
Building on this momentum, the workshop organizers announced the availability of pilot research funds, aimed at integrating physical science, mathematics and engineering, encouraging a team approach to addressing the toughest challenges in cancer. Detailed in a request for proposals, winning teams will be awarded seed funding to develop their ideas further. The goal is to enable multi-disciplinary teams to put together competitive grant proposals to sustain their efforts for the long haul.
"Our objective is to inspire great science, but also to stimulate funding for our cross-cutting partnerships, leveraging the advanced research of our combined faculties," said Fotis Sotiropoulos, PhD, Dean of the College of Engineering and Applied Sciences at Stony Brook University. "Together with the Stony Brook School of Medicine and Stony Brook Cancer Center, we're reaching across boundaries to create a visionary agenda that finds new possibilities for engineering and the applied sciences, to help answer those big unanswered questions in cancer."
"Medicine has a tremendous amount to gain from the more quantitative sciences, especially engineering. In my view, quantitative medicine is a reality - not an oxymoron.," said Kenneth Kaushansky, MD, Dean of the Stony Brook University School of Medicine. "With many new leaders at Stony Brook University, I anticipate far broader cross-cultural interests between the School of Medicine and College of Engineering and Applied Sciences. The whole will be greater than the sum of its parts."
"We have a highly collegial community at Stony Brook that has come together in support of next-generation cancer medicine and research," said Yusuf Hannun, MD, Director of the Stony Brook University Cancer Center. "We're building bridges between cancer and engineering sciences, with a cooperative spirit across campuses and supportive research and clinical leaders that will be instrumental to its success."
To learn more, share research, or get involved contact:
Samir Das
Associate Dean for Research, College of Engineering and Applied Sciences
Professor of Computer Science
samir.das@stonybrook.edu