Skip Navigation
American Society of Civil Engineers Recognizes Fotis Sotiropoulos for Advancements in Hydraulic Engineering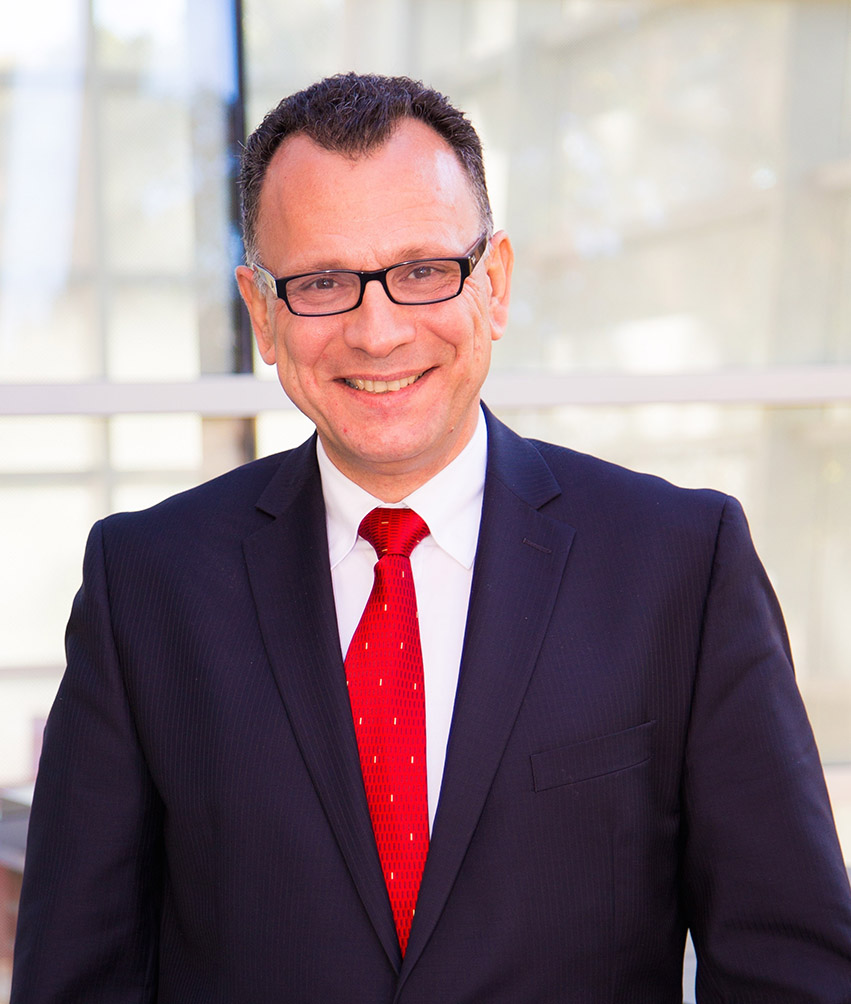 Stony Brook University congratulates Fotis Sotiropoulos, Dean of the College of Engineering and Applied Sciences, for being selected by the Environmental and Water Resources Institute (EWRI) to receive the American Society of Civil Engineers' (ASCE) 2017 Hunter Rouse Hydraulic Engineering Award.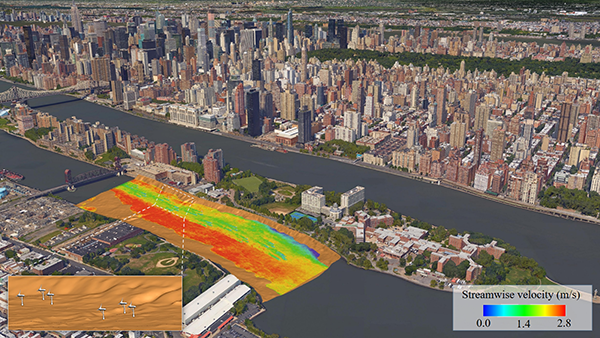 Sotiropoulos with his students and collaborators have developed advanced computational fluid dynamics tools enabling the simulation of turbulent flows in real-life riverine environments with mobile sediment beds, complex hydraulic structures, and energy harvesting devices. Shown here is a simulation of flow in New York City's East River seeking to optimize the layout of the tidal turbine array to be installed as part of the Roosevelt Island Tidal Energy project . This work was funded by NSF.
The award recognizes one individual each year who has made outstanding contributions to hydraulics and waterways. Sotiropoulos was recognized for his leadership in waterways research and application, and for generating a quantum leap forward in the development and application of computational fluid dynamics for waterways.  
"Sotiropoulos's groundbreaking research in hydraulics has set the standard for how people will treat modeling of riverine flows for decades to come. He dramatically raised the bar for what pioneering research in hydraulic engineering should look like and his insights can help solve real world problems," said Brian Parsons, Director at ASCE-EWRI.
His research focuses on simulation-based engineering science for fluid mechanics, problems in renewable energy, environmental, biological, and cardiovascular applications.  Funded by the National Science Foundation, the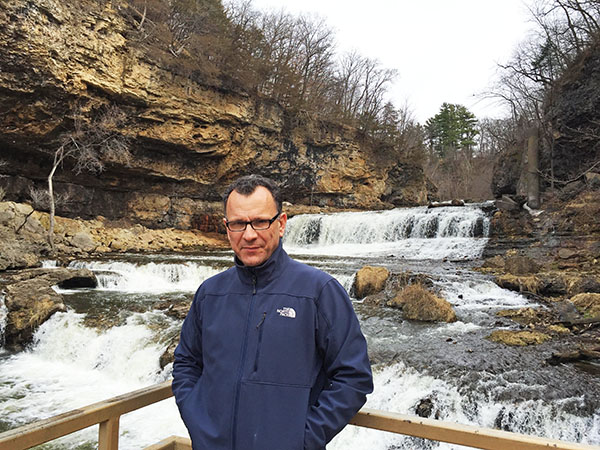 Department of Energy, the National Institutes of Health, the Sandia National Laboratories, private industry, and other state and federal agencies, Sotiropoulos has raised over $17M in externally-sponsored funds for research, as well as $17M in research facility development and renovation.  He is a Fellow of the American Physical Society (APS) and has authored over 170 peer reviewed journal papers and book chapters.
Here at Stony Brook, Sotiropoulos, together with faculty and students, is researching offshore wind and tidal energy resources. Working with Verdant Power Inc., which develops marine and hydrokinetic technologies, they aim to create the first grid-connected, tidal-energy research project in New York City's East River. Turbines will be installed at the river-bottom to harvest the tidal energy and produce electricity to power Manhattan.  The plan is to have a commercial-scale turbine array deployed in the river by 2020.
Established in 1979, Hunter Rouse Hydraulic Engineering Award and lectureship is endowed by the EWRI through personal contribution of engineers and engineering firms in honor of Hunter Rouse, Hon.M.ASCE.