Skip Navigation
2022 State of the College Address
Awards, Recognition and Successes
On November 4, 2022, Interim Dean Jon Longtin delivered the annual State of the College of Address, recognizing another year of growth and the many achievements, honors and successes by our  faculty, staff and students in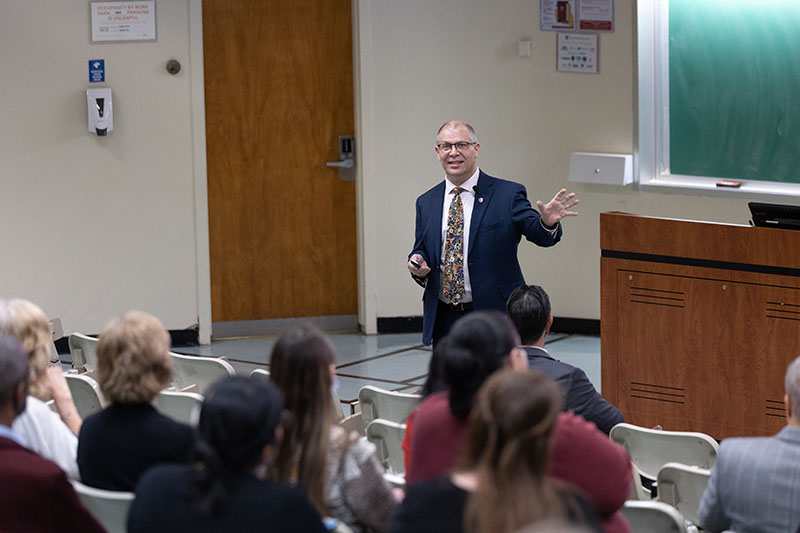 the College of Engineering and Applied Sciences (CEAS). 
Dean Longtin kicked off the address noting broader changes in the past year that have impacted the ongoing success of CEAS, including Stony Brook's finalist position in the Governor's Island proposal, our new status as a flagship SUNY Institution, and new provostial leadership under Provost Carl Leujeuz who joined Stony Brook in July, 2022. 
Rise in Rankings and Research
Highlighting U.S. News & World Report rankings, Longtin shared the College's increase of eight points among engineering colleges over the past six years, from 67 to 59, noting a monotonic increase. "We continue to do better and better. This is really exciting as we begin to encroach on the top 50," said Longtin. In addition, since 2018 the College's peer assessment score has risen from 2.7 to 2.9 and our recruiter evaluation score has also increased from 3.0 to 3.2. 
"This is important for two reasons. First, these metrics are beyond our direct control, as they reflect how others perceive us. They are a direct measure of how the reputation of the college is rising. The second thing that's important is these two numbers collectively constitute forty percent of the U.S. News and World Ranking, so movement in either of these numbers is significant."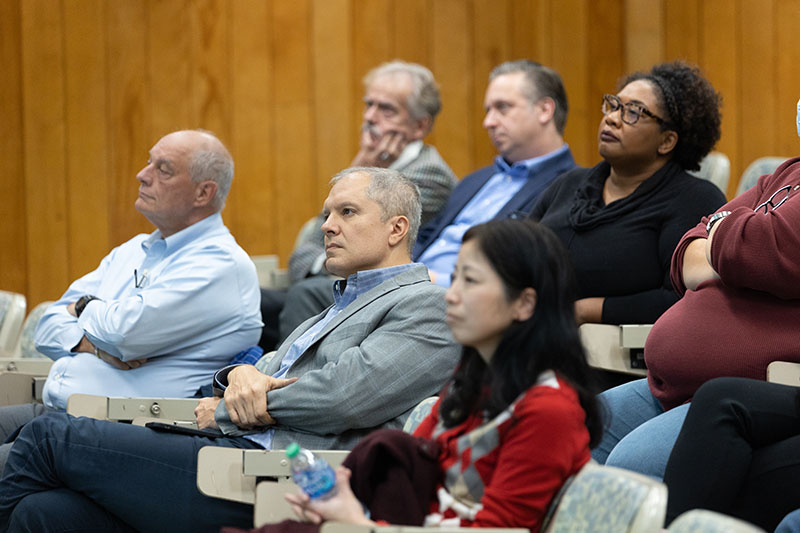 In addition, Longtin shared an update on the $100 million multidisciplinary engineering building. With funding now in place, the design process is scheduled to begin in December 2022, and construction is estimated to begin in fall 2024. The new building will include substantial new space dedicated to instruction and collaboration for student and faculty research. 
Dean Longtin highlighted a sample of the many research initiatives underway in CEAS, including advanced topology optimization, materials relevant to advancing nuclear energy, neuroimaging models for personalized medicine and drug discovery and electric power management. "It is both amazing and humbling to see the breadth and depth of research projects that are happening here in the College."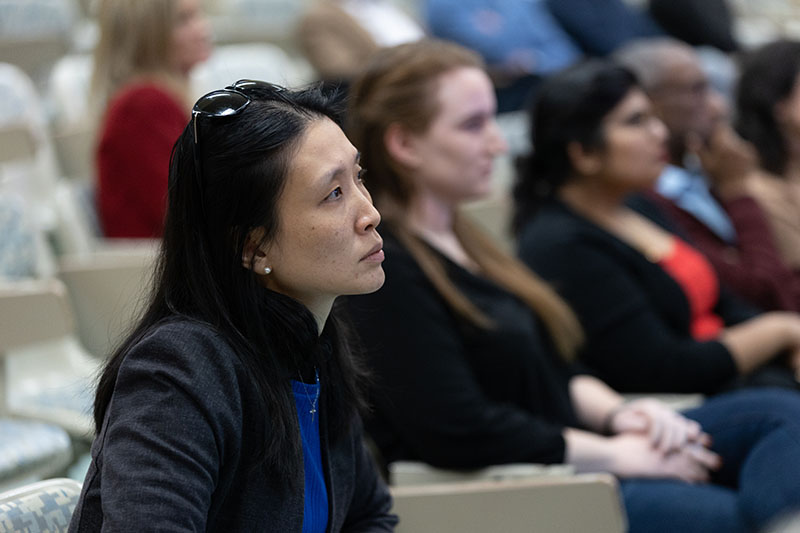 Research expenditures continue to rise and are currently at an all-time high of $66 million, up 40% since last year alone. Equally impressive, research expenditures per faculty have increased 39% since last year. Looking collectively, over the last seven years research expenditures are up 115% and expenditures per faculty are up 100%. 
"Seven years is important, because seven years ago we set a goal to double our research expenditures from $30 million to $60 million in 10 years. We've done this in seven years, three years ahead of schedule. This is something we can all take pride in," said Longtin.  "As we look forward there will be many more opportunities and new resources available to continue to grow our research enterprise even further."
High Marks on Student Quality, Diversity and Outreach
CEAS remains a major contributor to tech education in New York State and nationwide. The College has been the #1 producer of engineering and applied science bachelors degrees in New York State consecutively since 2018, and our four year graduation rate is holding strong at 74% for major admits. Longtin shared several examples of CEAS rebounding from the "COVID dip," including enrollment of female undergraduates and graduate and international students, which have all reached or surpassed their pre-COVID levels.
Expanding on diversity and outreach efforts for CEAS students, Longtin highlighted the new Simons STEM Scholars program, designed to provide 50 students a year with full scholarships, on-campus housing, and mentoring. In addition, the new IDEA Fellows Program will provide opportunities for eight fellows to join the Stony Brook faculty for two years to teach and do research in areas including ethical AI, climate justice, health disparities and Black, Latinx and Indigenous diaspora studies. These build on our existing robust outreach initiatives, including STEM-Smart K-12 programs and the Women in Science Engineering (WISE) Honors program of which 60% are CEAS students.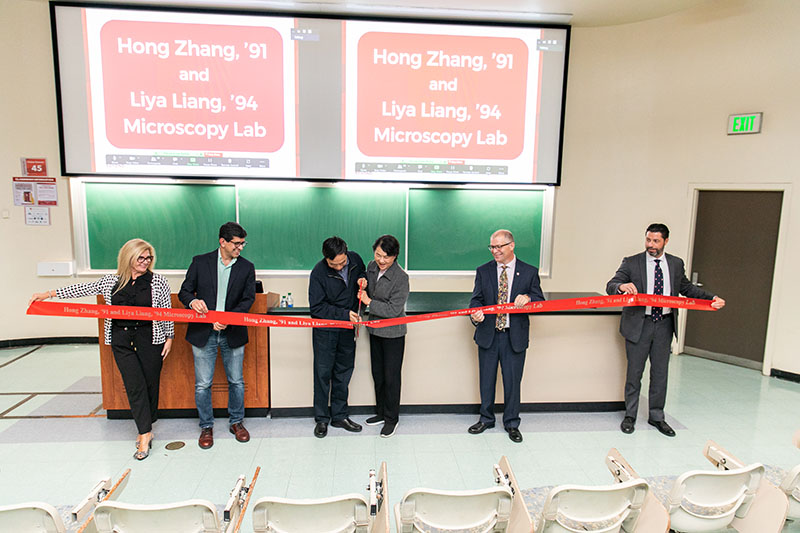 The State of the College Address concluded with a ribbon cutting for the Hong Zhang '91 and Liya Liang '94 Microscopy Lab, led by Dilip Gersappe, Chair of the Department of Materials and Chemical Engineering. A separate story about this exciting new facility will follow.
Dean Longtin concluded with a positive message of reflection during a challenging but successful period of change, while looking ahead to an exciting future.
"We are in an extraordinarily exciting time for the College, when we look at what we've accomplished, where we're going, the opportunities that we have  and our growth," said Longtin. "I'm excited to see where we will go in the next five years and am confident that we will continue to grow and expand in amazing and exciting ways." 
Note: we regret that Biomedical Informatics' Professor Chao Chen's NSF Early CAREER award was not included in the faculty awards section. We congratulate Dr. Chen on his prestigious award!
Dean's Millionaire and Millionaire Elite Clubs
After the conclusion of the State of the College, the awards ceremony commenced with the annual ceremony for the Dean's Millionaire Club, recognizing faculty who secured more than $1 million as the lead investigator in externally sponsored grants for the 2021-2022 academic year. Collectively, this group of 23 researchers raised $67 million in new research funding in the last year. This year a new category was added, the Dean's Millionaire Elite Club for those faculty who exceeded $1 million in annual expenditures in 2021-2021. The inaugural year for this award featured 13 researchers who collectively had$17.6 million in expenditures. 
This year's honorees are:
Millionaire Club Members (with Elite Status indicated)
Applied Mathematics and Statistics
Robert Harrison (three-time winner)
Biomedical Engineering
Lilianne Mujica-Parodi (three-time winner)

Yi-Xian Qin

Donghui Zhu (three-time winner) +Elite
Biomedical Informatics
Chao Chen (two-time winner)

Richard Moffitt

Ramana Davuluri

Fusheng Wang
Civil Engineering
Computer Science
Andrew Schwartz (three-time winner) +Elite

R. Sekar (two-time winner)

Dimitris Samaras (three-time winner)
Electrical and Computer Engineering
Petar Djuric (three-time winner)

Fang Luo (two-time winner)

Yacov Shamash (two-time winner) +Elite

Fan Ye (three-time winner)

Peng Zhang (three-time winner) +Elite
Materials Science and Chemical Engineering
Dilip Gersappe (three-time winner) +Elite

Lance Snead (two-time winner) +Elite

Esther Takeuchi (four-time winner) +Elite

Jason Trelewicz (four-time winner) +Elite
Mechanical Engineering
Millionaire Elite Members
Christine DeLorenzo, Biomedical Engineering

Danny Bluestein, Biomedical Engineering

Clinton Rubin, Biomedical Engineering

Joel Saltz, Biomedical Informatics

Matthew Eisaman, Electrical and Computer Engineering
Inaugural CEAS Awards
The event concluded by recognizing a year of successes and achievements, Longtin announced the recipients of the Inaugural CEAS Awards, awarded to faculty and staff who consistently go above and beyond their responsibilities in these respective categories. The awards and recipients include:
Diversity Leadership Award:
 Aruna Balasubramanian, Computer Science
Excellence in Faculty Service:
Kevin McDonnell, Computer Science

C.R. Ramakrishnan, Computer Science
Excellence in Professional Service:
Laurie Dalessio, Applied Mathematics and Statistics

Amanda Flanagan, Mechanical Engineering

Deb Klein, Undergraduate Student Office
Excellence in Teaching:
William Bernhard, Applied Mathematics and Statistics

Dimitris Assanis, Mechanical Engineering
Mentorship Award:
 Prateek Prasanna, Biomedical Informatics
Dean's Award for Excellence (Dean's discretion):
 Karen Chen-Wiegart, Materials Science and Chemical Engineering