Skip Navigation
2021 State of the College Address
Forging Into New Areas, Turning Challenge Into Opportunity
On October 22, 2021, Interim Dean Jon Longtin delivered the annual State of the College of Address, recognizing the many achievements, honors and successes for faculty, staff and students in the College of Engineering and Applied Sciences (CEAS). 
Dean Longtin began with a warm welcome back to faculty and students alike with Stony Brook's return to in-person learning this fall, noting in-person student activities that resumed in the fall semester, including the student involvement fair on September 8, and hosting two on-campus lectures in New Computer Science.
"If one were to look out on our campus on any given day, it would look like any other year, which is a tremendous accomplishment," said Dean Longtin. "Our (COVID) infection rates remain low, our students are in session and, in fact, the only classes that are held online are those with classrooms not available on campus."
With a new University President, Provost and leadership within CEAS, Longtin acknowledged a year of change, while touting the many opportunities facing the College and University. CEAS is playing important and significant roles in major, university-wide projects like Stony Brook's proposal to become the anchor establishment of the New York Climate Exchange on Governor's Island in New York City. 
"The Governor's Island proposal represents some enormously comprehensive and sophisticated thinking, and raises the bar for what we are able and capable to do in terms of our ambitions," said Dean Longtin, citing the Stony Brook proposal changes the question from 'What we can we do?' to 'What can we not do?'"
In addition, plans are underway to raise funds for a new, 100,000 square foot engineering building that will help define and foster a culture of entrepreneurship, innovation and collaboration by integrating students, faculty, students and the general community. "This will be transformational for the College," said Longtin.
Highlighting research initiatives in key areas as computational neuroscience, quantum engineering, renewable energy and electrical power systems engineering, Longtin said CEAS is in a pivotal position to make a significant contribution to these major, game changing initiatives. 
High Marks on Student Quality, Diversity and Outreach
CEAS remains a major contributor to tech education in New York State and nationwide. The College is  the #1 producer of bachelors degrees in New York State for the fourth consecutive year, while ranking nationally at #24 for the most Bachelor degrees, #35 for  Doctoral degrees, and #33 in total degrees. "Our students are as good as any in the country," Longtin said. Enrollment of women undergraduate students in CEAS is tracking ahead of the U.S. average and applications and admits for underrepresented minorities are also up. This is largely a result of our robust diversity and outreach programs targeting K-12 students in high-needs areas, as well as undergraduate and graduate students at Stony Brook, through STEM-Smart and Women in Science Engineering (WISE) Honors. In fact, in the 2020-21 academic year, the STEM Smart Family of programs served more than 750 students, and renewed funding from the New York State Education Department will support upwards of 3,750 students to benefit from our STEM-Smart programs over the next five years.
Overall student quality remains high, with 2020 freshman SAT scores that place us solidly in the company of our strongest peers in the county. Average high school GPA for incoming freshmen rose to 96.8%, up 0.4 percentage points from last year and 1.5 percentage points over the last five years. 
In addition, our four-year graduation rate continues to rise, now at 68.5% and up 18 percentage points over the last five years. Longtin attributes this to a sustained commitment to comprehensive advising, faculty mentoring, and recognizing and stepping in swiftly to help students in academic distress.
Unparalleled Faculty, Staff and Student Success
Dean Longtin, acknowledged a year of unparalleled faculty, staff and student success, particularly impressive in a year of ongoing change and uncertainty. Research expenditures are at an all time high of $47 million, surpassing last year's total, and are up 47% since 2016. Equally impressive, research expenditures per faculty continues to rise, up 46% from 2016. 
"Our research expenditures continue to grow and are the highest level the college has seen," said Dean Longtin. "Our faculty is engaged in cross-disciplinary collaboration that both strengthens our research enterprise, and at the same time demonstrates to our students how complicated programs are solved in the modern world." 
Superstar Teachers
Dean Longtin announced two Excellence in Teaching Awards, including:
Kedar Kirane, Assistant Professor in the Department of Mechanical Engineering for seamlessly converting two challenging, high-enrollment courses to a virtual platform with interactive lectures, "making it fun and easy to learn despite the circumstances that COVID presented."
Kevin McDonnell, Associate Professor of Practice  and Undergraduate Program Director in the Department of Computer Science, for adapting effective teaching methods for synchronous and asynchronous online learning. McDonnell also received the Chancellor's Award for Excellence in Teaching in 2021.
State of CEAS….
Dean Longtin concluded with a message of community and collaboration, with gratitude to faculty and staff for their commitment during a challenging but successful and rewarding year.
"It's been an extraordinary year. We have faced challenges and overcome them. Not only have we survived,but we've thrived," said Dean Longtin.  "As we look forward, there are tremendous opportunities ahead of us and we will approach them head-on, full-steam to grow, thrive and excel. The future is bright, and I look forward to taking that journey together!"
View the video for the entire presentation, and for more details on the exciting new initiatives in the College of Engineering and Applied Sciences.
Dean's Millionaires Club
The address included an awards ceremony for the Dean's Millionaires Club, recognizing faculty who secured more than $1M in externally sponsored grants. Collectively, the group of 18 researchers across five CEAS Departments raised $39 million in new research funding in the last year. This year's honorees are: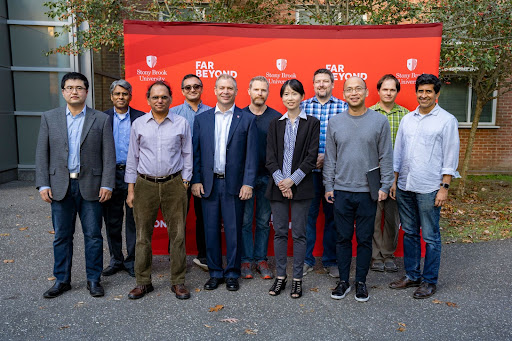 Dean's Millionaires Club - 2021
Left to right: Peng Zhang, T.A. Venkatesh, Himanshu Gupta, Hassan Arbab, Jon Longtin, Matthew Eisaman, Pei Fen Kuan, Andrew Schwartz, Fang Luo, Dima Kozokov, Dilip Gersappe
Applied Mathematics and Statistics
Dima Kozakov (three-time winner)
Pei Fen Kuan (three-time winner)
Biomedical Engineering
Hassan Arbab (two-time winner)
Gábor Balázi (two-time winner)
Paul Vaska
Computer Science
Barbara Chapman
Himanshu Gupta
Dimitris Samaras (two-time winner)
Andrew Schwartz (two-time winner)
Erez Zadok (two-time winner)
Electrical and Computer Engineering
Matthew Eisaman
Fang Luo
Yacov Shamash
Peng Zhang (two-time winner)
Materials Science and Chemical Engineering
Dilip Gersappe (two-time winner)
Lance Snead
Esther Takeuchi (three-time winner)
T.A. Venkatesh