Skip Navigation
2020 State of the College Address
Defining our path forward and sustaining growth in a year of unimaginable change and challenges
On October 8, 2020, Dean Fotis Sotiropoulos delivered his fifth State of the College address, celebrating growth, and collective successes and achievements of faculty and students in the College of Engineering and Applied Sciences (CEAS). More than 140 participants joined live on Zoom for Dean Sotiropoulos' annual address from the Broadridge Financial Solutions, Inc. Innovations Lab in the New Computer Science Building on campus. He started with a message of gratitude to faculty and staff for their dedication and accomplishments in an enormously difficult year - a year like no other - through the unprecedented COVID-19 pandemic we continue to face. 
"I want to start by thanking you all for your amazing work and contributions, and the passion and commitment you have shown to our students, our College and our University," he said. "I am immensely proud of how the College of Engineering and Applied Sciences responded and for not retreating, not hiding but actually being there at the frontlines in so many ways."
Answering the Call: COVID-19 Response
Dean Sotiropoulos commended faculty and staff for quickly adapting from in-person to online classes and identifying innovative approaches to remote learning and lab research; for their unwavering support of our partners in Stony Brook Medicine as they battled the raging virus with soaring patient admissions and dwindling supplies, under crisis conditions while engaging students in response efforts; and for continuing to conduct cutting-edge research, educating students and keeping things moving forward as if nothing was different. Highlights of these efforts include: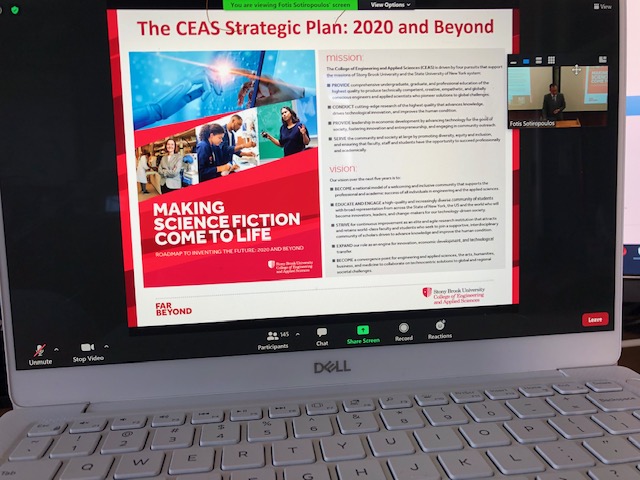 Roadmap to Inventing the Future: 2020 and Beyond
Amidst the escalating crisis of the pandemic we continued to develop our strategic plan and this summer completed the Roadmap to Inventing the Future: 2020 and Beyond.  The Roadmap outlines our path forward in a post-COVID world and our vision for excellence in three strategic areas: diversity, outreach and inclusion; educational innovation; and societally relevant research and entrepreneurship. It is also designed to serve as a convergence point for engineering and applied sciences, the arts, humanities, business and medicine to collaborate on technocentric solutions for today's biggest societal challenges.
Fueling the Workforce of Tomorrow - Student Quality and Programs
CEAS continues to fuel the workforce of tomorrow within New York State, across the country, and around the globe, with graduates that receive the highest quality education in engineering and applied sciences. The College is the #1 producer of BS degrees in the State of New York and ranks 21st nationally in the most BS degrees awarded to women. Student quality continues to soar with average incoming first-year student SAT scores rising to 1441 and high school GPA of 96% percent. 
We've also made consistent progress in increasing the number of women in our student body, from 21% to 25% over the last five years. Our Women in Science and Engineering (WISE) Honors program continues to grow among both first year and already enrolled students - approaching a total of nearly 400 students this year.
In addition, the Vertically Integrated Projects program , mentioned earlier, has grown from 53 to 252 students since its introduction in spring, 2019 and now encompasses students from 34 majors, along with faculty from 20 departments and four colleges/schools within Stony Brook.
" Our Vertically Integrated Projects (VIP) Program has spread like wildfire across the entire university, and forms the basis to reimagine not only the engineering curriculum, but also the curriculum of many other parts of the university," Dean Sotiropoulos said.
Astonishing Success for Faculty and Growth in Research
Dean Sotiropoulos reported yet another year of astonishing success for faculty winning multiple prestigious federal grants, applauding not only the size of the grants, but the exciting advancements in innovation - a direct result of tackling scientific research problems and building interdisciplinary teams across the entire Stony Brook community. Research expenditures crossed the $46 million mark for the first time ever, up 14.2% from last year and up 55% over the last five years. Research expenditures per faculty is also on the rise - 15% over last year, and 66% over the last five years .
" If you look at our performance in research you'll see that our growth continued as if nothing was different," he said.  "We had another record year and it's all because of the brilliance of our faculty."
State of CEAS and Beyond 
Dean Sotiropoulos concluded that the state of CEAS is now stronger than ever. 
"Our growth has been steady but we face unprecedented challenges," he said "As engineers and applied scientists we never stop innovating, and it's more important than ever that we constantly reinvent ourselves, to sustain our growth and support our continued excellence."
View the video for the entire presentation, and for more details on the exciting new initiatives in the College of Engineering and Applied Sciences.
Dean's Millionaires Club
The address included an awards ceremony for the Dean's Millionaires Club, recognizing faculty who secured more than $1M in externally sponsored grants. Collectively, the group of 22 researchers across eight CEAS Departments raised more than $47 million in new research funding in the last year. This year's honorees are:
Applied Mathematics and Statistics
Evangelos Coutsias
Dima Kozakov
Biomedical Engineering
Danny Bluestein - four-time honoree
Christine DeLorenzo - two-time honoree 
Congwu Du - two-time honoree
Jun Wang
Donghui Zhu - two-time honoree
Biomedical Informatics
Chao Chen
Joel Saltz - three-time honoree
Zhaozheng Yin
Civil Engineering
Fotis Sotiropoulos
Computer Science
Yanhong Annie Liu
Nikolaos Nikiforakis
Omkant Pandey
IV Ramakrishnan
Andrew Schwartz
Electrical and Computer Engineering
Mónica Bugallo - two-time honoree
Petar Djurić - two-time honoree
Milutin Stanaćević
Fan Ye
Peng Zhang
Materials Science and Chemical Engineering
Dilip Gersappe
Jason Trelewicz - three-time honoree
Technology and Society
Wolf Schäfer
Note: Dean Sotiropoulos is currently serving as Interim Provost and Senior Vice President of Academic Affairs in addition to Dean of the College of Engineering and Applied Sciences, beginning in October, 2020.  Robert Kukta , Senior Associate Dean for Education and Innovation, is currently serving as Acting Dean for CEAS.