Skip Navigation
2022: Building on Challenges, Creating New Opportunities
As we come to the end of another year, I'm overwhelmed with gratitude for all that we have to be proud of and grateful for, with so much to look forward to in the year ahead. This fall it was truly invigorating to see our campus come to life with the beginning of another academic year, and the vibrancy that our students, staff, and faculty bring to the College of Engineering and Applied Sciences (CEAS) and the entire Stony Brook community. 
So much has happened in the last year that it's hard to know where to begin. We were honored when Governor Kathy Hochul named Stony Brook as one of two new flagship institutions in the State University of New York (SUNY) system, and then committed her support for matching funds toward the construction of a new multidisciplinary engineering building on our main campus. In addition, Stony Brook has been selected as a finalist in the competition to be the anchor institution for the Governors Island Center for Climate Solutions. These are exciting opportunities for all of us in CEAS in terms of experiential learning and research, and well-deserved recognition for Stony Brook.
We welcomed new provostial leadership at Stony Brook with Provost Carl Lejuez joining  us in July. He attended our monthly Deans and Chairs meeting in the Engineering Building shortly after arriving to share his vision, priorities and challenges in his new role. A week later he delivered a West Campus Academic Budget Forum on August 3. In case you missed it, the recording for the Forum is available here.
I am very excited to have several new staff and faculty join our CEAS family this year, including six new faculty additions:: 
Omar Chowdhury

, Associate Professor and SUNY Empire Innovation Scholar, Computer Science

Jalaa Hoblos

, Associate Professor of Practice, Computer Science

Wei Li

, Assistant Professor, Civil Engineering

Yifan Zhou

, Assistant Professor, Electrical and Computer Engineering

William Stewart

, Assistant Professor, Mechanical Engineering

Ulas Sunar

, (SOM) SUNY Empire Innovation Associate Professor, Biomedical Engineering 
Their bios and photos are included in this story on the CEAS website. 
Rise in Research and Rankings
I continue to be amazed at the the breadth and depth of research projects that are happening here in the College. Our research expenditures continue to rise and are currently at an all-time high of $66 million, up 40% since last year alone. Equally impressive, research expenditures per faculty have increased 39% since last year. Looking collectively, over the last seven years, our research expenditures are up 115% and expenditures per faculty are up 100%. 
This is something in which  we can all take enormous pride. As we look forward there will be many more opportunities to continue to grow our research enterprise even further. Here are just a few examples of the groundbreaking research our faculty are advancing:
We continue our consistent growth in the U.S. News & World Report rankings with an increase of eight points among engineering colleges over the past six years, from 67 to 59. In addition, since 2018 the College's peer assessment score has risen from 2.7 to 2.9 and our recruiter evaluation score has also increased from 3.0 to 3.2.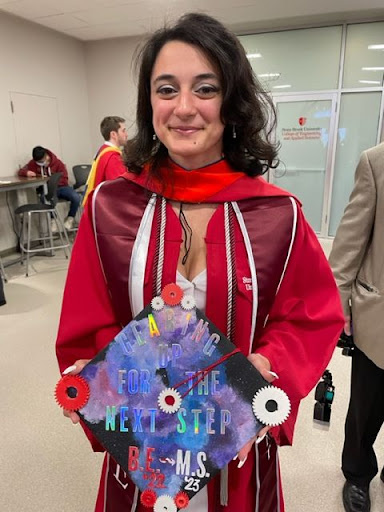 New Student Programs, Diversity and Outreach
As both a college and a university, we place the highest priority on our diversity and outreach efforts. We are particularly excited about the new Simons STEM Scholars program, which will provide 50 students a year with full scholarships, on-campus housing, and mentoring. In addition, Stony Brook's new IDEA Fellows Program provides the opportunity for eight fellows to join the university faculty for two years to teach and do research in areas including ethical AI, climate justice, health disparities and Black, Latinx and Indigenous diaspora studies. These build on our robust outreach initiatives, including STEM-Smart K-12 programs and the Women in Science Engineering (WISE) Honors program, of which 60% are CEAS students.  In fact, in the 2021-22 academic year, the STEM Smart Family of programs served more than 800 students, and is poised to support upwards of 4,000 students through 2025.
Now in its third year, our Vertically Integrated Projects (VIP) program fosters experiential learning, enabling students to work alongside faculty on multidisciplinary teams that address long-term projects on important societal topics like automotive ethics, computing for good, inclusion in innovation, feeding cities, engineering and adaptation to climate change, and more.
CEAS remains a major contributor to tech education, both  in New York State and nationwide. The College has been the #1 producer of engineering and applied science bachelors degrees in New York State consecutively since 2018, and our four-year graduation rate is holding strong at 74% for major admits. Enrollment of female undergraduates and graduate and international students has reached or surpassed their pre-COVID levels in these important areas. In fact we continue to track ahead of the U.S. average in women undergraduate students. 
In other exciting news, we are moving forward with plans for our $100 million multidisciplinary engineering building. With funding now in place, the design process is scheduled to begin in December 2022, and construction is estimated to begin in fall 2024. The new building will include substantial new space dedicated to instruction and collaboration for student and faculty research. 
With these new opportunities and our strong core competencies we are even better-equipped to make a critical impact on STEM education, and to graduate students who are ready to engage, contribute and face society's biggest challenges head on!
This is an extraordinarily exciting time for the College, when we look at what we've accomplished, where we're going, the opportunities that we have and our growth. It's been a challenging but also successful period of change. We have learned much in working together to build on the challenges we faced to create new opportunities for our students, staff and faculty alike. 
On behalf of all of us in the College of Engineering and Applied Sciences, I wish you a peaceful and relaxing holiday season spent with family and friends, and good health and cheer in 2023.
Jon Longtin, Interim Dean
College of Engineering and Applied Sciences