Skip Navigation
2018: Celebrating student success, expanding diversity and growing research
It has been another whirlwind year in the College of Engineering and Applied Sciences -- achieving our goals, measuring our successes, and sustaining and expanding excellence on all fronts. This has been a year filled with exciting moments and many accomplishments as our world-class faculty, talented students, inspirational alumni, and the most dedicated, hard-working staff have been hard at work elevating the college to new heights of excellence.
Our Students:  Quality, Diversity, New Programs and Engagement
Our students continue to shine through their academic excellence, entrepreneurial spirit, and compassionate engagement in solving the world's biggest challenges via technological innovation. We are continuously attracting the best and brightest undergraduates in the Nation, with the average high school GPA now at 96% and the average SAT score at 1424. At the same time, the four-year graduation rate has risen sharply from 49% in 2015 to 59% in 2018. In 2017, we granted one of every 120 degrees in engineering and applied science nationwide, and now rank 24th for the most undergraduate degrees, and 34th for graduate degrees in the nation.
Enrollment of women undergraduate students in the College has risen to 25%, the highest it has ever been and well above the national average. The number of women in the incoming freshmen class is also at a historic high of 31%. Our students and faculty are engaged in comprehensive diversity and outreach programs, targeted to underrepresented and economically disadvantaged students through STEM-SMART and Women in Science and Engineering (WISE) Honors.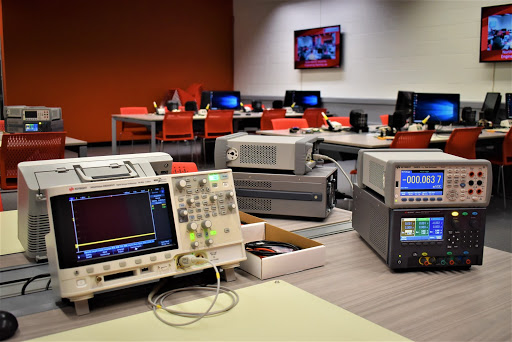 Thanks to the generosity of our industry partner North Atlantic Industries, Inc., we just opened a new state-of-the-art engineering design lab space to support and grow our outreach efforts aimed at students, teachers and administrators from Long Island communities and help ignite life-long passion in STEM education. Our new North Atlantic Industries Engineering Teaching Lab will serve a range of STEM-oriented activities targeted to high school and middle school students.
Our WISE Honors program continues to grow and expand with an innovative new, 20-credit curriculum - the first in the nation! The program, which includes students in engineering and applied sciences, the arts and humanities, medicine and atmospheric sciences, now admits 100 new women students each year, a growth of over 66 percent since 2015, and boasts an impressive retention rate of 91.5% over four years.
I was inspired by our students' passion for innovating with technology at our first-ever 24-hour hackathon, run completely by students and for students. SBUHacks brought a stronger hackathon culture to campus, with support from our College, the Department of Computer Science, Stony Brook Libraries, sponsors and alumni, and student clubs and groups .  For the second consecutive summer, we held our Global Innovation Field School at the Turkana Basin Institute in Kenya, where students across disciplines earn credits while developing technological solutions to help solve everyday challenges of communities in the "bottom billion," such as water filtration, solar power and electrical systems, wastewater management, infrastructure development and repair.
In the years ahead, we will continue to build on and expand student success, quality, and diversity as we strive to help the State and the Nation address the "innovation deficit" by producing engineering and applied science talent for the global technology-driven economy.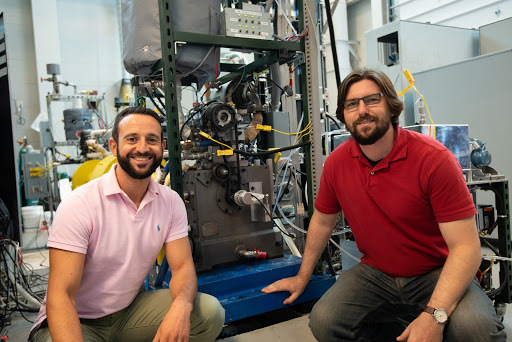 Our Research: Big Challenges, Bold Ideas
We are making steady progress toward our goal of doubling our research expenditures over the next five years. Our annual expenditures are up 20% since 2015, and annual expenditure per faculty is up 12% in the same timeframe. In addition, the submission of federal grant proposals is up 34% since 2015. Most important is the work being done here in our College to tackle the biggest engineering challenges we face today.  This year alone, our faculty are working on:
Our Faculty: Honors, Awards and Successes
I remain in awe of the astonishing success of our award-winning faculty, as two of our distinguished faculty were elected Fellows of the National Academy of Inventors :
Arie Kaufman, Distinguished Professor and Chair of the Department of Computer Science from 1999-2017, and

Clinton Rubin, Distinguished Professor and founding Chair of the Department of Biomedical Engineering from 2000-2017.
Renowned energy storage researcher Esther Takeuchi, a distinguished professor in our Department of Materials Science and Chemical Engineering, became the first American recipient of the 2018 European Inventor Award . And our future looks incredibly bright based on the success of our junior faculty, achieving an unprecedented 10 early career awards from NSF (6), Department of Energy, DARPA, Air Force Office of Scientific Research and Army Research Office! This is only a sampling of the many prestigious awards our faculty received this year, indicative of their caliber and the respect they command among peers.
Our Alumni: Inspiring, Engaged, Supportive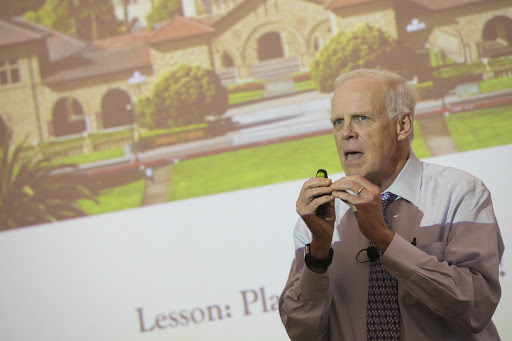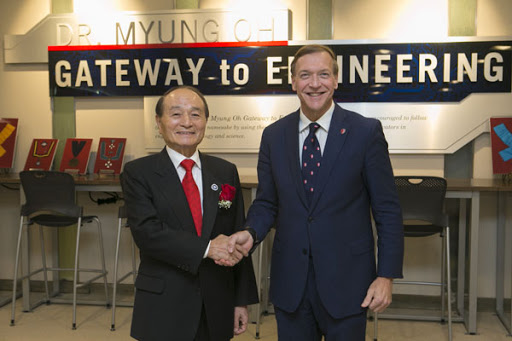 I am immensely grateful for the generous support of our inspirational alumni, and to welcome them back on campus to share their success stories with our students and faculty.  We were privileged to host Computer Science graduate John Hennessy MS '75, PhD '77, President Emeritus of Stanford University and Chairman of Alphabet Google. In May he was inducted into our Distinguished Alumni Hall of Fame and joined us for an on-campus lecture to more than 200 students, faculty, alumni and guests, entitled: From Stony Brook to Stanford and Silicon Valley: Stories From a 45-year Journey. Then, on the heels of receiving the prestigious Turing Award, Professor Hennessy donated the funds from his share of the award along with personal funds to establish the John L. Hennessy Endowed Professorship in Computer Science at Stony Brook. We look forward to the 2019 Distinguished Alumni Hall of Fame ceremony on April 25, when we will induct Computer Science graduate Jon Oringer '96, Founder, CEO and Chairman of Shutterstock, Inc.
Our inaugural Distinguished Alumni Hall of Fame Honoree, Dr. Myung Oh '72, joined us in October to dedicate a new student space, the Dr. Myung Oh Gateway to Engineering . Designed to encourage quiet study or collaborative work, the space has become a student destination, to meet up and plug in before and after classes in one of the two adjacent lecture halls.
Our Departments: Renewed Leadership, Continued Excellence
I am proud to see new leadership taking shape in our departments. Samir Das was named Chair of Computer Science following a competitive national search. Rigoberto Burgueno joined as Chair of Civil Engineering from Michigan State University this fall also following a competitive national search. Dilip Gersappe was named interim Chair of Materials Science and Chemical Engineering; and Joe Mitchell was renewed as Chair of Applied Mathematics and Statistics.  
Our Future: 2019 and Beyond!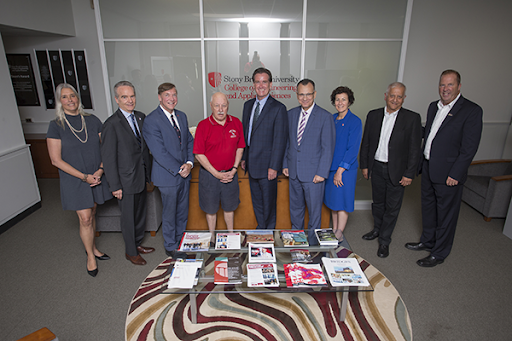 Our tremendous growth is outpacing our existing facilities. In order to remain on the forefront of inventing the future of engineering education, with the full support of Stony Brook University President Samuel L. Stanley MD, we are seeking funding for an exciting new venture - a new engineering building here at Stony Brook. We announced this summer that Senators Flanagan and LaValle have committed $25 million to begin planning and design, a major step toward our ultimate goal of $100 million.  
This year we launched the Institute for AI-Driven Discovery and Innovation to serve as the intellectual leader in AI research within SUNY, New York State and at the national level.   Distinguished Professor of Computer Science Steven Skiena was named Director , and we already have searches underway for five professors in AI and cybersecurity.  We're also making rapid progress toward launching the Institute for Engineering-Driven Medicine, a strategic collaboration between the College of Engineering and Applied Sciences and the School of Medicine.  The Institute will be housed in a brand new $75M building designed for interdisciplinary research and programs, currently under construction.
This is an exciting time for CEAS as we are making rapid progress on all fronts to sustain and expand our growth, support our excellence and achieve our strategic goals. I am so grateful for our faculty, students, alumni and partners - and am confident that with your collaboration and support we can make our vision reality.
The state of CEAS is stronger than ever!
Fotis Sotiropoulos
Dean, College of Engineering and Applied Sciences
SUNY Distinguished Professor of Civil Engineering