Skip Navigation
Four-year
graduation
rate
EXCEEDS 66%
ENGINEERS AND APPLIED SCIENTISTS

must be knowledgeable, ethical and compassionate and maintain a broad awareness of the global implications of their creations. Technological advances must consider the interests of society as a whole, hence engineering education should embrace disciplines outside of STEM. Through programs in interdisciplinary capstone design, vertically integrated projects, and off -grid global innovation, we will expand perspectives by engaging students from the humanities, arts, social sciences, medicine, and business in team experiences. This collaboration will challenge our students to refi ne their soft skills while advancing technical literacy within the non-STEM community. To help guide the transition from student to professional, we will provide students with a professional experience, a context for fundamental knowledge, and a setting to practice lifelong learning. Leveraging our long history of engaging undergraduates in research, integration of technical understanding as a general education requirement, and advancements in project-based learning, we are well-positioned to rise as leaders in educational innovation.
#1 PRODUCER
of bachelor's degrees from engineering colleges in
New York State.
RANKED #19
nationally.
75 POINTS
growth in average SAT scores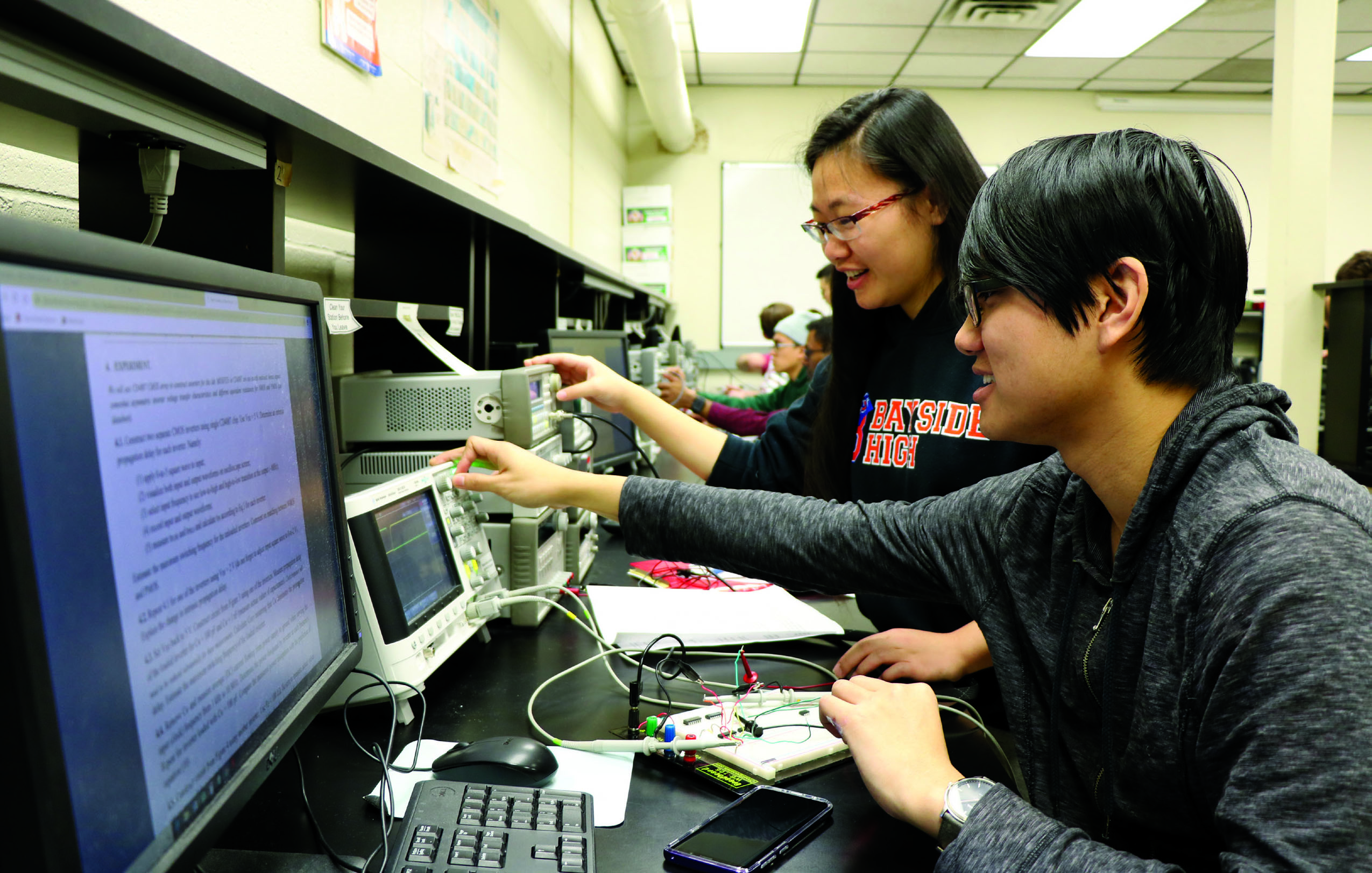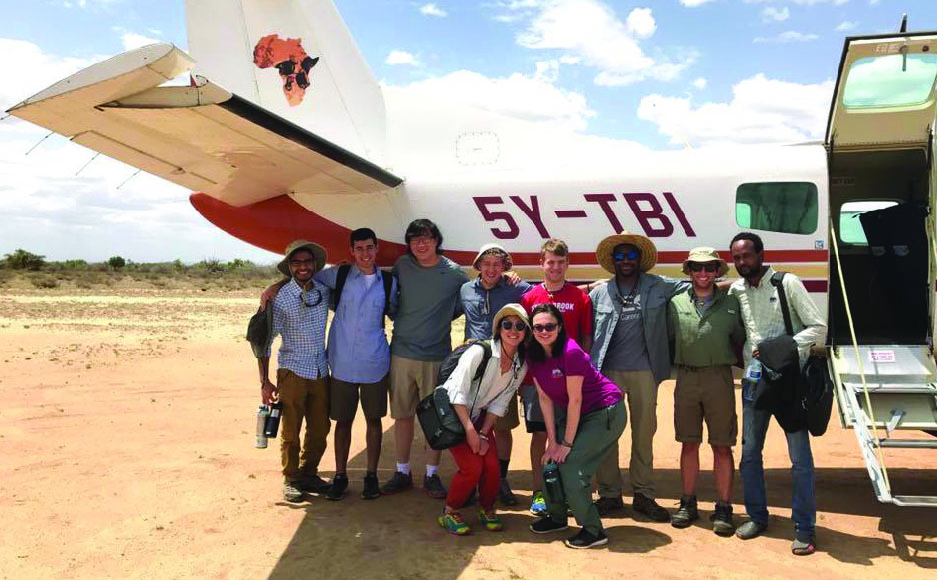 ATTRACT and retain a diverse, talented, and dynamic student body.
PROVIDE a cutting-edge, cross-cutting, societally-relevant educational experience that

Integrates fundamental knowledge with practical application, professionalism, ethics, and communication.
Emphasizes creative thinking, teamwork, inclusiveness, global understanding, empathy for humankind and lifelong learning.
Develops entrepreneurship, innovation, and leadership skills.
CONTINUOUSLY ADAPT and reimagine engineering and applied science education in today's era of exponentially growing technology and intelligent machines.


1. Continuous innovation and improvement in education: We will strive to continuously progress topically and pedagogically. Topical adaptation starts with world-class research on problems of current and future relevance to society. Targeted strategies will ensure broad-based benefits that extend beyond research-active students and translate into curriculum revisions and new tracks. Frequent communication and collaboration with alumni and employers will ensure technical and soft skills meet changing industry needs. Pedagogical innovation must be valued by all faculty and driven by leaders who focus on teaching and educational research.
a. Breakthroughs in cross-cutting education: We will continue to work to expand educational programs beyond traditionally siloed disciplinary structures. Broad-based graduate programs that bring together disciplines around common technologies have already been developed. Examples include new programs in data science, engineering artificial intelligence, and the Internet of Things. We will lead efforts to introduce cross-cutting innovation and flexibility in undergraduate curricula by:
Establishing a unified framework for capstone design courses to facilitate interdisciplinary collaboration among seniors.
Instituting central course offerings of introductory engineering subjects, programming fundamentals, ethics, communication, and professional skills to dissolve traditional disciplinary boundaries.
Reducing minimum core degree requirements to provide the flexibility to pursue new opportunities in cross-cutting tracks and educational collaborations between  epartments.
Introducing new cross-cutting programs on topical and emerging areas such as net-zero carbon engineering, engineering-driven medicine, technology in the era of pandemics, and resilient and smart urban infrastructure.
b. Industry engagement : We will continue to expand collaborations with industry and alumni through innovative partnerships, advisory boards, workshops, and professional training. Opportunities for direct curricular engagement will be advanced through cooperative education, co-mentoring in capstone design and graduate research, and partnerships with teams in our Vertically Integrated Projects program.
c. Emphasize and reward teaching innovation and excellence:
Expand focus on pedagogical innovation through targeted initiatives and hires in engineering education research.
Infuse cutting-edge research findings into pedagogy by encouraging full-time teaching faculty to work with research-active faculty. They will attend research group meetings and participate as senior personnel on grants with the role of translating research topics into the classroom experience.
Continue to emphasize the importance of teaching excellence in tenure and promotion decisions.
Establish annual teaching awards in each department with recipients to be recognized alongside our Excellence in Teaching Award during the State of the College Address.
2. Project-based learning as professional experience: Our educational philosophy is founded on the premise that the transition from student to professional must occur prior to graduation, and this requires professional experience. We will leverage our Vertically Integrated Projects (VIP) program and the Global Innovation Field School at the Turkana Basin Institute (TBI) in Kenya, require unified frameworks for capstone design, and incorporate students at all levels into integrated teams.
a. Leadership: Students across all levels of experience and leadership must be integrated in project-based learning to incorporate professional experience and provide a realistic leadership structure. Leaders need to first experience the role of reporting to a superior, and those who are not natural leaders should have the opportunity to lead with the leverage of their experience.
We will build integrated teams by:
Expanding the VIP program, which integrates sophomores through doctoral students, and connect it to senior capstone design and master's projects.
Engaging juniors to provide supporting roles on senior capstone design teams as a curricular requirement.
Engaging master's students as mentors for senior capstone design.
b. Multidisciplinary collaboration : A professional experience benefits from multidisciplinary elements. We will promote broad-based student collaboration by growing participation in the VIP program and our Global Innovation Field School at TBI, which is ideally suited for building multidisciplinary teams. Establishing a unified framework for senior capstone design and master's projects will broaden multidisciplinary engagement in degree-required experiences.
c. Lifelong learning : Lifelong learning requires a long-term goal and the ability to identify milestones along the pathway to this goal. We will cultivate a culture of life-long learning by creating opportunities for students to participate in long-term projects, including VIP and student research, to provide them with context and motivation.
3. Increase accessibility: Our mission to educate extends beyond training students to enter engineering and applied science professions. We are a generator and a conduit of knowledge to serve all levels of education and technological advancement. The strategies below address our broader educational mission and alternate modes of education that enhance accessibility.
a. Online education : We will build on the experiences of our recent COVID-19 online transition and our Electrical Engineering online bachelor's degree, one of the first ABET accredited online programs in the country. We will collaborate across the University and with other institutions to provide online options for existing degrees and create new online degree programs that bridge multiple disciplines. Mechanisms to share course modules between departments will be established to facilitate collaboration, enhance efficiency, and broaden multidisciplinary education.
b. Service to industries and professionals: We will invite industry partners to collaborate on new courses that address targeted needs of their employees and their industry in general. New professional programs will be developed that focus on retraining working adults in emerging areas of exponentially evolving technologies. Adjuncts from industry who are practiced experts in their respective fields will be recruited to teach courses both in person and online. We will identify research that is suitable for commercial translation and deliver content through credentialed short courses and workshops.
c. Hybrid educational opportunities: Bridge programs will be explored to facilitate and encourage cross-disciplinary educational exchange, where undergraduates of one discipline are taught the fundamentals needed to enter the graduate program of another discipline.
d. Teacher certification in engineering: To support the introduction of engineering design to the Next-Generation Science Standards, we will collaborate with the School of Professional Development to offer a much-needed engineering certification for K-12 teachers.
4. Nurture high standards of academic success and integrity: We must maintain excellence in academic success and integrity and become known as a destination for students who hold the same high standards. Standards should be uniformly maintained across onsite, off-campus, and online degree programs and courses. Efforts include:
a. Advance an environment of success and integrity : We will advance curricular innovations and inclusive teaching that engage our students' diverse strengths and experiences. Project-based contexts will motivate learning through a long-term, goal-oriented perspective, and inclusion of peer evaluations in student assessment will provide accountability in teamwork.
b. Support and reward excellence : Enhance academic advising with increased staff support. Utilize technologies that augment in-person advising and communication. Reward excellence in peer and faculty mentoring.
c. Expand opportunities for success : Continue to grow winter and summer course offerings to address the needs of off-track students. Institute a uniform process of outreach to advise offtrack students of these offerings for their academic plans. Expand online course offerings to address the unique needs of part-time students.
d. Build a supportive and inclusive community : Improve the student experience by supporting extracurricular activities and interactions between students, faculty, and staff.