Skip Navigation
Resources
VIRTUAL TOWN HALL PRESENTATIONS FOR SOCIAL JUSTICE

This important series reflects our commitment to educating our students, faculty, and staff so they may better understand the interconnectedness of our political and social systems, and, how to take constructive actions as responsible citizens of the world to lead change in our society, on and off campus.


"Truth, Science and Free Speech"
May 17, 2021

Watch Video
Ali Velshi, Host of MSNBC's "Velshi" 
Respondents: 
Stephanie Kelton, Professor of Economics and Public Policy, Stony Brook University
Sara Nelson, International President, Association of Flight Attendants-CWA, AFL-CIO
John Barry Ryan, Associate Professor of Political Science, Stony Brook University
"Inclusive Pedagogy and the Engaged Classroom"
September 30, 2020

Watch Video
Dr. Judith Brown Clarke
, Vice President of Equity and Inclusion and Chief Diversity Officer
Dr.
Styliani-Anna (Stella) E. Tsirka, 
Miriam and David Donoho Professor, Department of Pharmacological Sciences; 
Director, Scholars in BioMedical Sciences Program; 
Vice Dean for Faculty Affairs, Renaissance School of Medicine at Stony Brook University
Dr. Surita Bhatia
,
Vice Provost for Faculty Affairs, Stony Brook University; Professor, Department of Chemistry; Affiliate Professor, Department of Materials Science and Chemical Engineering; Director, NSF Quantitative Materials NRT Training Program (QuADS NRT)
Dr. R. Anna Hayward
, Associate Professor, School of Social Welfare
Charles L. Robbins
, Executive Director, Center for Changing Systems of Power; Vice Provost for Undergraduate Education and Student Success; Dean of the Undergraduate Colleges 
"Health Care Disparities: The COVID-19 Pandemic"
Wednesday, July 29, 2020

Watch Video
Dr. Héctor E. Alcalá, Assistant Professor, Department of Family Population and Preventive Medicine and Core Faculty, Program in Public Health
Dr. Ken Kaushansky, Dean, School of Medicine and Senior Vice President of Health Sciences

Dr. Benjamin Locklair, Policy, Planning, and Development Supervisor, Philadelphia Department of Behavioral Health and Intellectual Disability Services

Dr. Jennie Williams,
Associate Professor
,
Department of Family, Population and Preventive Medicine

Dr. Ting Liu
, Associate Professor, Department of Economics
"The Killing of George Floyd and the Resulting Protests for Social Justice"
Thursday, June 18, 2020

Watch Video
Panelists:
Abena Asare, Associate Professor, Department of Africana Studies

Franck Joseph II '12, Deputy Commissioner at New York City Commission on Human Rights

Joe Vitriol,
Senior Researcher, Department of Political Science 
Warren Graham,
Clinical Assistant Professor and Director of Field Education at Stony Brook University
"The Global Dimensions of Black Lives Matter: Where Do We Go From Here?"
Wednesday, June 24, 2020

Watch Video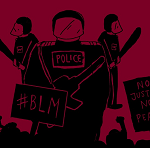 Panelists:
Shobana Shankar, Associate Professor, Departments of History and Africana Studies  

Joseph Pierce, Associate Professor, Department of Hispanic Languages and Literature

Simone Brione, Assistant Professor, Departments of English and Africana Studies 

Crystal Fleming, Associate Professor, Departments of Sociology and Africana Studies  

Shimelis Gulema
, Associate Professor, Departments of Africana Studies and History
Sponsored Events
AAPI Heritage Month Public Forum on Anti-AAPI Racism 
Watch Video
After the event, our Department of AAAS created an anti-racist resource page with an AAPI focus:
https://www.stonybrook.edu/commcms/asianamerican/_AAPI_Resources.php

Issues of Civility and Zoom Privacy
Our students, faculty, staff, alumni and community represent all races, ethnicities, religions, sexual orientations, gender identities, and abilities — and we benefit from all perspectives. We are committed to maintaining the dignity, respect, and fair treatment of all members of our community. Any action that stigmatizes an individual or a group of people, including expressions of xenophobia, will not be tolerated. 
Message re: Incivility in Online Classrooms
Additional information about online learning