Skip Navigation

Co-hosted by Caitlyn Duffy '21, PhD English

My podcast, Of Gods and Monsters, is part of the Ghoulish Media network and focuses on the classical period of horror and science fiction cinema (pre-1978). My co-host Anthony Derington and I research a single movie each month and try to provide our listeners with thematic interpretation of the film, historical context, and production histories of the film. 
Podcasting is a great vehicle to share information because it feels a bit more casual. I also like how we can have guests on the show who can bring their own areas of expertise and opinions to bear on whatever film we're discussing that episode. The discussion format always leads me to discover something new about film, and I hope it's that way for our listeners, as well! I like to think of podcasting as a way to both get my research out there to a larger audience as well as a means to keep engaging in thoughtful and analytical conversation even after I've completed my coursework! 
What inspired you to start your own podcast?
I've been a big podcast fan for YEARS, so I guess it was only a matter of time! 
Of Gods and Monsters is actually not my first podcast - I had previously started another horror movie podcast Night of the Living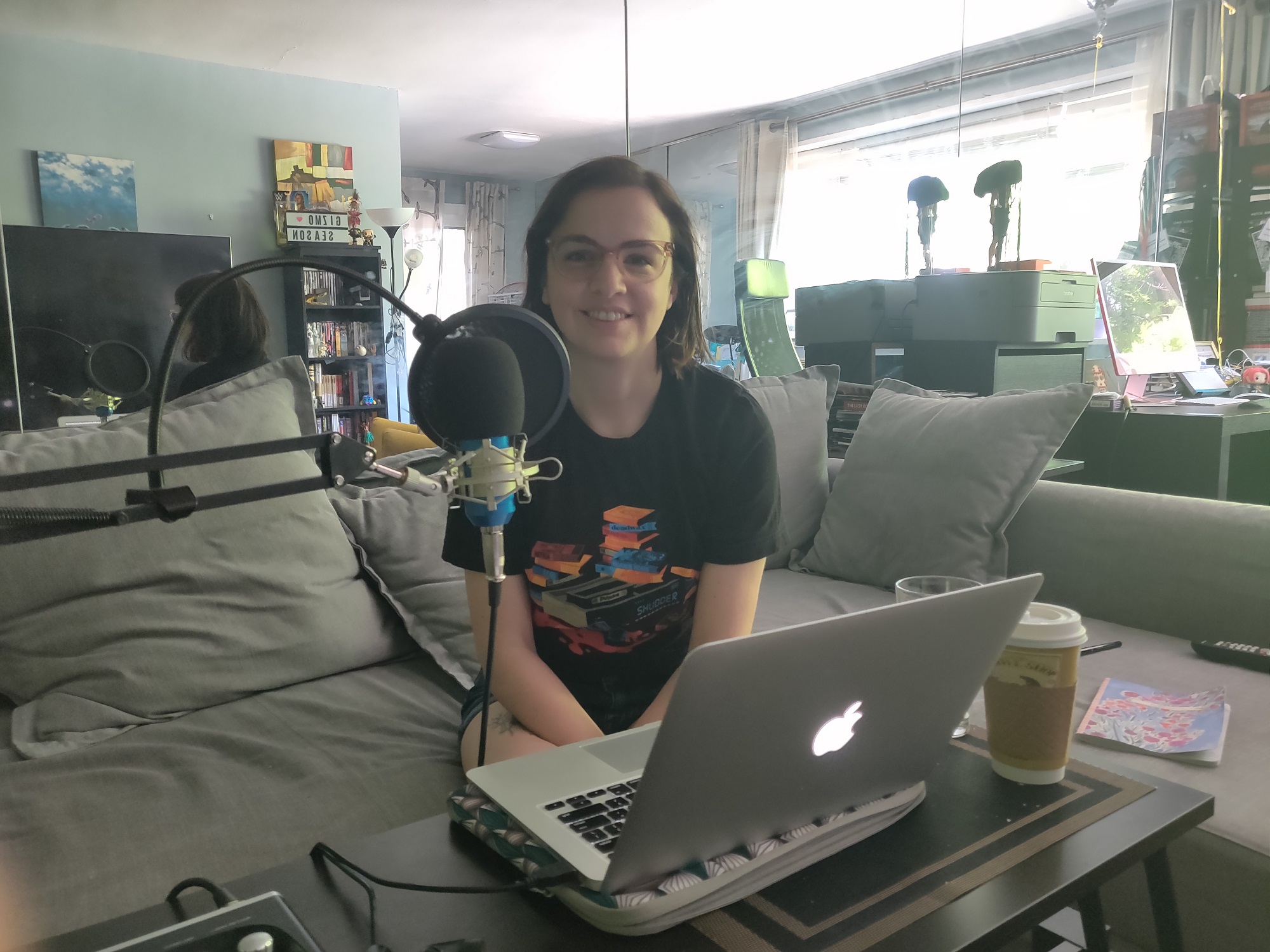 Academic with my spouse, Matt, but, since COVID started, we haven't been great at staying active, unfortunately. I started that podcast because Matt and I always had lengthy conversations after watching movies, so I thought we might as well start recording them! Also, I wanted to get better at speaking. I knew I was a good writer, but public speaking was always hard for me. Podcasting has been a great way to develop my speaking skills. I also think it's helped me to improve my ability to explain my research for general audiences. There's still room for improvement, though! 
It was because of my work on Night of the Living Academic that Anthony (from Ghoulish Media) reached out to me to see if I'd like to be a host of Of Gods and Monsters .
Who is your audience?
Anyone can listen to our show, but we're mainly trying to reach horror and sci-fi fans, as well as film buffs in general. We want to bring more attention to the classical period of horror and sci-fi cinema and how it continues to inspire and influence pop culture and genre films today. 
What is involved in creating and promoting each episode?
We're currently in our second season, and because I'm working on defending and submitting my dissertation this year, we cut down on how many episodes we're producing. During Season 1, we released an episode every week. For Season 2, we're releasing an episode each month, and two episodes in October (we are a horror podcast, after all). 
Besides the fact that I'm working on my dissertation, we also wanted to make this change to make sure that we had the time to put in a considerable amount of  research and care into each episode. We really want our podcast to feel academic and informed, as well as entertaining. 
The time I put into this podcast each week changes. But, basically, beyond watching the movie we're covering one or two times, I also find and read a few articles on the film, the historical context, or on an artistic movement connected to the film in question (for example, in our episode on David Lynch's Eraserhead, Anthony and I spend a bit of time discussing surrealism). And then we record! Our episodes are usually around an hour long. Anthony and another member of Ghoulish Media, Christian McDonald, edit the episode. 
We promote on Twitter (follow us @GNMPod !) and sometimes Ghoulish Media writers shout out to specific Gods and Monsters episodes in their articles. 
There are a LOT of horror and sci-fi podcasts out there. But - as far as I know - we're the only one that specializes in pre-1978 horror and sci-fi. I think finding a niche is really important in the podcasting market! 
Why did you choose a podcast over other forms of media ?
It's a really popular medium right now and it allows us to share researched histories and interpretations of film in a really casual way. 
What sort of reception has Of Gods and Monsters received?
Last time I checked, we've got some positive reviews on iTunes, which is great! 
I've also been invited to guest on some other film podcasts, which has been a really fun experience! It's a great way to learn about podcasting because you see the different approaches that other shows take. If you ever get a chance to guest on a podcast, do it! 
What has been the greatest challenge in hosting your own podcast?
I think getting over the fear of trolls and harsh Internet critics was a major challenge for me. You really feel like you're putting yourself out there when you make a podcast! 

Another challenge is also the same as one of the reasons why I got into podcasting - explaining your research to a general public can be really hard, but I think it's a really important muscle to exercise. 
What has been the greatest reward?
Definitely all of the fantastic people I've met along the way! By getting involved in podcasting alongside being a graduate student, I've been able to make connections with other film critics, fans, creators, and scholars. I get to discuss film with a wide array of people, which has let me see movies through different perspectives, which, in turn, has helped me to approach my dissertation in new ways. 
Where to tune in: 
Of Gods and Monsters is available on Apple Podcasts , Spotify , Stitcher and Libsyn .