Skip Navigation
In honor of International Women's History Month, we asked some of our students to share who their women mentors are in the College of Arts and Sciences. We're proud to recognize Dr. Tracey Walters, associate professor and chair of the Department of Africana Studies.  "I am lucky to have lived a life surrounded by so many amazing women who inspire me every day, from my own mother to my daughters and many friends," she told us. "I have never regarded my gender as something that holds me back from doing anything I desire." Read our interview with Dr. Walters below.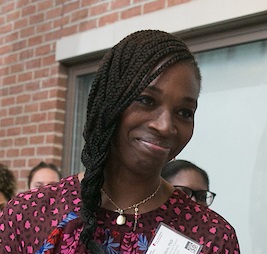 Tracey Walters

What does your department do to recognize faculty, staff, and students during Women's History Month? 
Excellent question. Many of us participate in Women's History Month events across campus, but we don't do anything specific for students, staff, or faculty in the department. We do so much for Black History Month that we don't redirect our focus (on a departmental level) to Women's History Month. You've certainly given us something to think about for next year.
Who in the College of Arts and Sciences would you most want to recognize during Women's History Month in terms of their contributions? 
There are many dynamic women scholars and administrators I'd like to honor, it's hard to choose one! Without hesitation, I have to go with Lois Carter, Assistant Dean for Faculty Affairs. Lois is an amazing woman with an incredible work ethic. Her position comes with a lot of pressure and responsibility, but she makes it look so easy. Despite the demands of her job, she's always generous and patient. I don't know how CAS would function without Lois. The faculty owes so much to her efficiency. She's the first line of defense for our tenure files, she's a liaison between the faculty and the Dean, and she has an institutional memory that's beyond valuable. Her contributions to SBU are countless.  
Do you think Women's History Month is a good way to empower young women and tomorrow's women leaders? 
Much like BHM, WHM remains essential. Each and every day women make significant contributions to our society, but they are not always acknowledged for the impactful work they produce. It's a sad reality that we still have to mark the occasion when women break into industries and become the "first" to hold a position of influence. We're also still rewriting "herstories" so that women's contributions to history do not remain dormant. Let's not forget what happens to women on the margins, especially women of color and transwomen. These women are often rendered invisible. Think about the pioneering work of African American scientist/mathematician Katherine Johnson. For almost fifty years, Johnson 's trailblazing work on NASA's first space exploration was unknown to the general public.  It took the film Hidden Figures to bring her story to light. Spotlighting the achievements of women is empowering because it reminds women of their capabilities. Documentaries, special assemblies, and lectures inspire and empower women to reach for their goals. Knowing there's a path forward and seeing that others have made it gives women hope.
How do you interpret the word word "feminist?" Do you consider yourself a feminist? 
There are still stereotypes attached to feminism (e.g., feminists are radical man-haters), but most people understand why some women and men embrace the term. It's not just about empowerment, it's also about advocacy.  For a younger generation, participating in the recent Women's Marches, as well as learning about the work of Ruth Bader Ginsberg and the current discourse on Roe v. Wade, the current Democratic race for a Presidential nominee, and Title IX laws, have made feminism more palatable and much more respected. I was a late-blooming feminist. While my actions and beliefs may have been feminist in orientation, I didn't consciously appropriate the language of feminism until graduate school. Feminism is not a one-size-fits-all ideology, especially for black women. It's important to recognize the historical exclusionary practices of feminist movements - especially first- and second-wave feminist movements. Earlier on, white women failed to recognize the voices and concerns of women of color. We had to fight to make space within the movement, or we opted to do our own thing - think Combahee River Collective or The Crunk Feminist collective. 
What do you think is the next step for women's rights activists? 
Women's rights activists have different agendas. For many, the personal is political, so they fight for what's happening individually or within their own communities. There's a lot of work to be done. We can't ignore the intersectional oppression of marginalized women who aren't simply fighting for a seat at the table in corporate America.  I'm thinking about what's happening with Native American women. Right now there's an epidemic. Young Native American women in New Mexico and other states are being murdered or reported missing, and the local and Federal governments are not doing enough to help these communities. Black infant mortality is alarming and Black women are two to six times more likely to die from complications in pregnancy than white women. Domestic workers, many of them Black and Brown women, continue to fight for Federally-protected labor laws that ensure a living wage and an exploitation-free work environment. There's also a lot of work about women and prison reform that's also happening - Angela Davis has been doing this work for many years. The list is endless. Women involved in Black Lives Matter have been instrumental because they've bundled social justice reform with educational, health, labor, and environmental concerns. I haven't even started to address what's happening globally or the work around transwomen who are being murdered without retribution or even media coverage. 
If you had to choose one feminist that you admire above all others, who would they be and why? 
Unfair question. My mind goes to Angela Davis, Audre Lorde, and then Wangari Maathai. Thinking more deeply, though, I have to say Claudia Jones. She was a Caribbean socialist feminist - very provocative in today's world. She was a remarkable woman who fought for the everyday black woman in America and across the diaspora, especially domestic workers. While I might get hate, I have to add Beyonce. She's not an obvious choice, but her brand of feminism is appealing to a lot of people. In the words of Roxane Gay, she's a "bad feminist" feminist!
What is one piece of advice you would give to the young women of Stony Brook?
Mentorship is invaluable to success. I've been lucky to have amazing mentors and role models who have encouraged me along the way. It's one of the reasons why I have mentored so many of our students. Seeking out an amazing woman who can help you identify your goals and give you the strategies to find success is important. Mentorship does not have an expiration date. We can all learn from those who are older, wiser, or more experienced.