Skip Navigation
aaron (Bill) godfrey, european languages, literatures and cultures
january 10, 1929 - April 7, 2020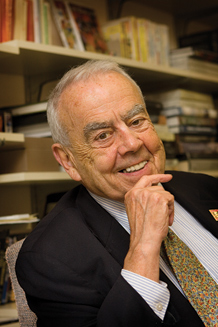 We're saddened by the passing of  Aaron (Bill) Godfrey, a longtime lecturer in the Department of European Languages, Literatures and Cultures, on April 7, 2020. 
For more than 55 years, Bill inspired students across Stony Brook University. Throughout his decades of teaching, research and service, he instructed students in Latin and the Classics while publishing numerous articles and books. Bill served as Director of the Upward Bound program and the Teacher Opportunity Corps, and as President of both the University Senate and the Stony Brook chapter of the UUP, to name just a few of his many roles on campus over the years. He retired from the College in 2017, yet remained a fixture until his passing. 
Bill was a generous donor to the University in support of the Classics, and he was particularly supportive of students; his most passionate commitment was always his students. In his last teaching statement, he wrote, "It is fortunate that I am still in touch with many of my former students who remember me. This is the real reward of a teaching career." His course evaluations were consistently filled with comments such as, "He really cares about his students," "He is incredibly generous with his time," and "He is an amazing teacher." One student wrote, "I wish he was my grandpa so he could tell me stories at the dinner table about the Greeks and Romans." Bill's absence will be felt deeply throughout the SBU family. We will miss him enormously.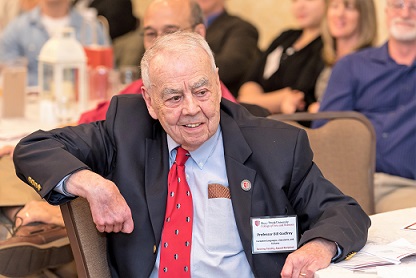 The Godfrey Awards for Excellence in Teaching, which will be poignantly awarded at The Difference You Make virtual awards ceremony on April 15, were named for Bill and his generous gift to the College in recognition and support of our faculty. These awards were created to allow students to recognize their faculty mentors who go above and beyond teaching in the classroom – a testament to Bill himself. 
Bill is survived by his wife Valerie and their 10 children and 26 grandchildren.
Contributions in Bill's memory may be made to the Friends of Latin Current Use Fund or the Aaron W. Godfrey Endowed Scholarship in Classical Literature and Latin .