Skip Navigation
Dean of the College
Nicole S. Sampson
Distinguished Professor of Chemistry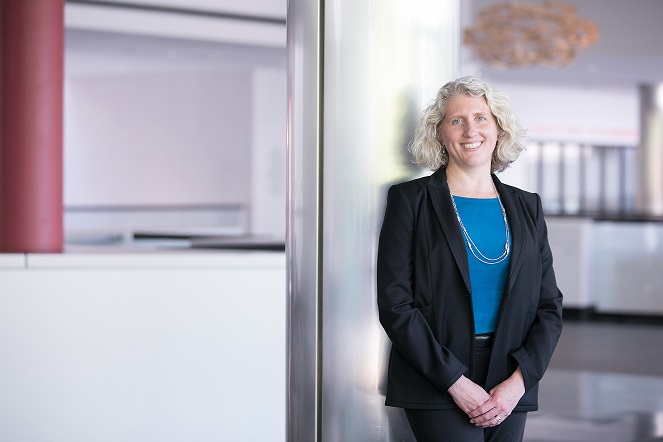 Nicole Sampson has had a lifelong fascination with proteins, how they function in human biology, and how small molecules can alter their function to improve the human condition. She has led the tuberculosis community in mapping the mycobacterial cholesterol metabolism pathway. She has pioneered the use of chemical probes to unravel the intricacies of sperm-egg binding in mammalian fertilization, including developing new chemistry to synthesize functional copolymers. She has a long track record of bringing quantitative molecular insights to disparate biological arenas that provide translational breakthroughs.
 Nicole's honors and awards include:
The Camille and Henry Dreyfus New Faculty Award

National Science Foundation CAREER Award

The Arthur C. Cope Scholar Award and the Pfizer Award in Enzyme Chemistry, both from the American Chemical Society

The Research Foundation of SUNY Research and Scholarship Award

The New York State NYSTAR Faculty Development Award
In 2017, she was selected as a Fellow of the Stellenbosch Institute for Advanced Study (STIAS). Nicole has received more than $16 million in research support primarily from the National Institutes of Health and the National Science Foundation. She has authored more than 100 peer-reviewed articles, reviews, and issued patents. Nicole serves on the editorial advisory boards of Accounts of Chemical Research,theJournal of Organic Chemistry, and chairs the editorial advisory board of Chemical & Engineering News. She reviews NIH training grants nation-wide as a member of the Training and Workforce Development B Study Section at the NIH. Nicole was elected a Fellow of the American Chemical Society in 2017.
An Interview with Dean Sampson, July 2018
What was your major as an undergraduate, and why did you choose Harvey Mudd College?
I was a chemistry major from the beginning, and attended Harvey Mudd College in Claremont, California, which is primarily an engineering school. I grew up in Buffalo, NY...going to southern California seemed like a good idea after the Blizzard of '77!
You've said that you've had a lifelong fascination with proteins. From where did this stem? Why did you select your particular area of research?
I had the opportunity to do undergraduate research every summer in college, and at the time, gene cloning and molecular biology methods were just beginning to make it easy to obtain a lot of proteins in the lab. Three-dimensional protein structures were being visualized on the same graphics systems that were used to make the first Star Wars movies. These new technologies were disrupting how we undertook experiments and opened my eyes, quite literally, to what molecules look like in three dimensions - it was, and still is, cool!
Who were some of your mentors?
I've had many mentors at each stage of my career, and I've been fortunate that they've encouraged me to take the most adventurous path in my life. One of the more influential was my postdoc mentor, Professor Jeremy Knowles. Jeremy was an amazing communicator in person and in writing, and he taught me the value of both in communicating my own science. He became Dean of the Faculty of Arts and Sciences at Harvard when I was a postdoc, so I've seen how the skills of running a scientific laboratory can translate into administration. One of Jeremy's favorite mottos was "Not better, just different..." This motto is important when considering the wide diversity of scholarship in a college like CAS. Coincidentally, a previous Dean of CAS at Stony Brook, James Staros, was also a postdoc with Jeremy Knowles. So there is some interesting symmetry here.
You've said that you've continued your career at Stony Brook because of the people. What is it about your connections here that make Stony Brook feel like home?
Stony Brook faculty are always willing to answer questions regardless of what department you are from or if you are a student in one of their classes. The intellectual curiosity of the faculty and students and willingness to share make Stony Brook a great place to be.
What's the biggest change in higher education since you started here at SBU? 
Our current society focuses on the instantaneous. A University education is currently being valued based on immediate return on investment, i.e., the earning potential in currently high demand careers, as opposed to valuing education for the knowledge it generates. New knowledge will lead to continued improvement of the human condition in the longer term. It is hard to appreciate that value when you are worried about paying bills as income disparities increase.
What do you feel Stony Brook offers that other schools do not?
We are a young University, and despite the constraints of being a state institution, we have been and can continue to be flexible to do what makes the most sense.
What was your reaction when you learned you were being appointed the interim dean of the College of Arts and Sciences?
I knew this was an important opportunity, especially in a critical moment for the College, to give back to the institution where I've built my career.  As a current member of the SBU community, I felt a responsibility to lead the College and to support the arts, humanities, social sciences, and natural sciences in a 21st century University.

What are you most looking forward to in this new role?
The diversity of research and scholarship I now have an excuse to learn about.
What are your immediate goals for the College?
To find commonalities that the various departments within the College can work on together to elevate their research and scholarship, and to identify fruitful collaborations outside the College that will elevate the whole University.
Tell us a little about your family. 
My spouse emigrated to the U.S. because of me; we met at a science conference. He is also a faculty member at Stony Brook. He is an amazing scientist and, according to our sons, we talk too much at dinner about our research! Nevertheless, my eldest son is a very independent learner and likes to design his own experiments. We're lucky he didn't burn the house down. My younger son is very tolerant of these experiments. He is musically talented and plays both the piano and cello.
We understand your eldest son is entering his first year of college this fall. What advice have you given him about choosing a college and/or career?
To study what he is truly interested in, and the rest will follow.
If you were to give advice to a young Nicole Sampson, what would it be?
To always take the more interesting path, even if it is not the well-traveled path.
What message do you want to share with our students?
Explore new directions of inquiry as you work toward your degree. How do you know if you will like something, unless you try?
What are some of your favorite pastimes? How do you balance your demanding schedule as a researcher, educator, and now, administrator?
Since graduate school, I've swum and run regularly, and commuted by bicycle. A few years ago, a friend talked me into doing a triathlon with her. I enjoyed it. I like the training more than the racing. Nevertheless, I like to do a couple of races a year to stay motivated - if I don't train, I know I will suffer in the race. Fortunately, race results are split out by age, and I'm sufficiently old that I can make the podium occasionally. Training time is "screen off and think" time. I think that time will be equally important as an administrator.
Who is your favorite musical artist(s)? What song do you have on repeat?
I've succumbed to using Spotify. My current playlist is based on the Black Keys "Gold on the Ceiling."
What's your favorite vacation spot? 
Maine on a lake. I love to swim long distance in lakes.
What are you currently reading?
My graduate students' papers and thesis drafts!
How active are you on social media? 
Not so much, except to share workouts with other triathletes as a motivational tool. I use Twitter to communicate with those interested in the happenings within the College of Arts and Sciences. Follow me @CASdeanSBU.