Skip Navigation
hodan hassan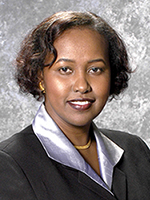 Assistant Dean for Advancement, College of Arts and Sciences
Stony Brook University
Hodan Hassan has been appointed as the Assistant Dean for Advancement in the College of Arts and Sciences and is continuing to serve as Chief Development Strategist and Deputy Director for Center ValBio.
Before joining Stony Brook in April 2016, Hodan served as Associate Vice President of Program Funding for Save the Children. She has more than 20 years experience working in senior-level advancement positions in public/private universities and humanitarian institutions such as United Nations for Children's Fund (UNICEF).
Hodan holds undergraduate degrees in mathematics and physics and master's degrees in applied mathematics and education, from Long Island University in Brookville, New York.

Email:   hodan.hassan@stonybrook.edu