Skip Navigation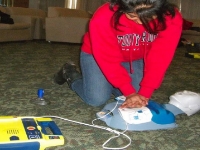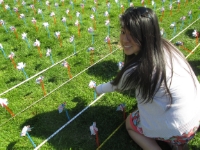 ---
"Having the opportunity to help out in my community while achieving my academic goals is what made me decide to come to Stony Brook."
- Stony Brook University Student 
What is "service learning"?
"Service Learning" refers to experiential learning opportunities that connects learning in the classroom to activities that address the needs of the surrounding communities. Service Learning is an effective strategy for enhancing student learning, improving educational experiences, and fostering civic engagement. Service Learning courses typically include structured time for students to discuss and reflect on their service experiences. This type of experiential education is a productive strategy for meeting important community needs and building partnerships between the university and local communities. 
What are the benefits of service learning?
Service Learning has proven benefits to all participants, including students, faculty, communities, and the university. These experiences help students to develop important professional skills, including critical thinking, communication, teamwork, civic responsibility, problem solving, public speaking, computer skills, research skills, and analytical skills. These skills are increasingly sought after by industry employers. Service Learning experiences also foster long-term partnerships between community organizations and the university and strive to encourage students to remain active in their communities during their time at Stony Brook and beyond. 
What are some examples of Service Learning?
Each year since hurricane Katrina a group of Stony Brook students have traveled to New Orleans to pursue an "Alternative Spring Break."   The students spend their vacation building homes with Habitat for Humanity providing sorely needed housing to those ravaged by the disaster.  

Click here to learn more about how Stony Brook's Director of Experiential Learning, Urszula Zalewski, offered STEM students the opportunity to apply their skills and knowledge to projects benefitting the local community. 
At Buffalo State students participate in a wide variety of service learning projects which span all disciplines.  Some projects include conducting a community health fair, writing community newsletters, participating in the success and expansion of GED and professional development courses. 
At Ohio State University faculty from the College of Dentistry and Department of Human Nutrition collaborate to provide dental care to underserved populations in Columbus, Ohio.
At Stanford students work in a government organizations that facilitate urban development and improvement. 
Some professors chose to allow students to develop their own service project instead of completing a typical semester project. 
Before the fall semester began in 2006 the Stony Brook University College of Leadership and Service took a bus load of new students to build a global village.  Students served their community by building the complex and gained a greater understanding of living conditions in 3rd world countries. 
What are some local organizations and businesses interested in partnering with SBU students?
The SBU Career Center already partners with over two hundred non-profit organizations near Stony Brook and throughout the five buroughs of New York City. If you are interested in learning more about these organizations and businesses or if you are interested in developing a Service Learning project for your students, contact Urszula Zalewski at
Urszula.Zalewski@stonybrook.edu
 or 631.632.6814. 
Where can I find additional resources for learning more about Service Learning?
The following offer myriad resources pertaining to the high-impact pedagogies associated with Service Learning: