Skip Navigation
Sign Shop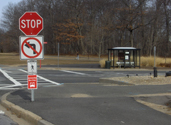 The Sign Shop is responsible for the design, installation and maintenance of the University's signage. Responsibilities include: consulting/design of informational and directional campus signage, as well as the fabrication, installation, maintenance and cleaning of campus signage.
Our Mission  is to plan and provide directional and informational signs that make our campus destinations as accessible and self-service as possible for new students, faculty, staff and visitors.
Our Vision  is to plan and provide a sign sequence that makes sense to the University community and guides them from local roadways to any campus destination and back again to the local roadways.
The Sign Shop provides the following services: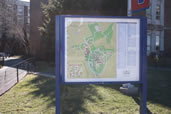 Consulting and estimating
Signs for public areas (stair, floor level, rest rooms)
Scheduled sign maintenance and/or cleaning
Unscheduled repairs to damaged signs
Parking signs fabrication and installation
Traffic control sign fabrication and installation
Exterior way-finding sign fabrication and installation
Painted or vinyl graphics
Fleet markings and decals
In a limited fashion, the Sign Shop also assists in the procurement of the following:
Interior building nameplate and/or office numbering signage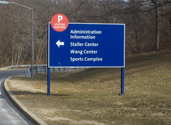 Members of the Stony Brook University community who require sign shop assistance are directed to visit the   FIXIT website  and submit a work order highlighting their needs. Once a work order is submitted, a Sign Shop staff member will contact the name given on the work order to handle the details of the request. Under "Work Order Type", please select "Signs (Sign Shop)."