Skip Navigation
Heating, Ventilation and Air Conditioning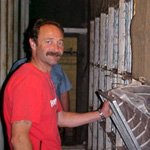 Heating, ventilation and air conditioning (HVAC) is responsible to provide a comfortable environment for the students, faculty, staff and visitors by maintaining and controlling the University HVAC equipment. The University consists of 76 major academic and non-academic buildings, which total 5.5 million square feet. Specific duties provided in support of the University are as follows:
Maintenance and repair of all HVAC equipment
Monitoring of HVAC control systems
Maintenance and repair of high temperature hot water and chill water systems
Supervise and monitor all HVAC contractors
The majority of the HVAC shop services are performed between the hours of 8:00AM and 4:30PM, Monday through Friday.