Skip Navigation
Carpentry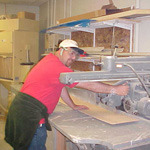 Facilities Operations has 3 Journeyman carpenters and 3 helpers. Together they maintain 76 major academic and non-academic buildings for a total of 5.5 million sq/ft. Specific duties provided in support of the University are as follows:
Repair and replacement of doors
Installation of panic bars and door checks
Repair and rebuild wooden benches
Boarding up of broken window (Interior and Exterior)
Floor tile installation
Ceiling repair and installation
Small new construction projects
The majority of the Carpentry shop services are performed between the hours of 8:00AM and 4:30PM.