Skip Navigation
Welcome Students, Faculty & Staff
Once you're settled in, don't forget to...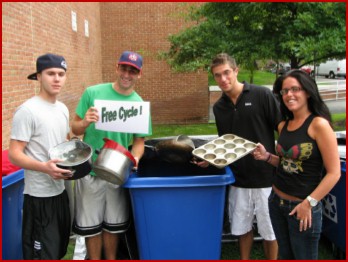 Check out Freecycle! FreeCycle is an annual Stony Brook University tradition in which incoming students are able to acquire some college essentials - like lamps, hangers, books, University supplies - for free, depending on availability. In addition, appliances such as refrigerators and microwaves may also be available.
How does Freecycle work? Students who move out the previous academic year donate unwanted items - which are collected and stored for the following year's Freecycle event. Freecycle events issue out collected items for free, on a first come first serve basis - and each year the event is held at the start of the fall semester located across from the Student Activities Center and in front of the Melville Library.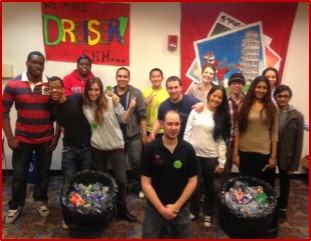 Recycling Receptacles: Interior and exterior recycling receptacles are available throughout the University and for more information on this infrastructure, please view the Recycling Receptacle Guide.
Recycling In Campus Residences: Each room located in campus Residences is equipped with a small recycling and waste bin. For more information on recycling receptacles, please view the Recycling Receptacle Guide. Recycling bins located in rooms should be used to hold used bottles, cans and plastics, and waste bins should be used to hold trash. Students are responsible for properly disposing recyclables and waste from their rooms to designated recycling areas on each floor of the residence hall.
Each Campus Residence floor has a recycling room, which has larger receptacles available to collect recyclables and waste from individual rooms;
Aluminum, Tin & Steel Cans
Glass Bottles & Plastics #1-7
Paper (Includes Office Paper & Newspaper), Magazines & Cardboard
Paper & Cardboard Tips
Recycle
DO NOT Recycle
Computer Paper
White Ledger paper
Mixed Paper Newsprint
Books Magazines
Cardboard Boxes Please flatten!
Pizza Crust, Food & Napkins
Excessive Packing Tape Or Duct Tape
Excessively Contaminated Paper Or cardboard
Paper that is put aside for recycling must be CLEAN and DRY. Boxes must be free of all garbage and packaging.
Bottles & Cans
Deposit and Non-deposit bottles are accepted.
Three Rules to remember before you put bottles and cans in the recycling bin:
RINSE
CRUSH
RE-CAP