Skip Navigation
Welcome Students, Faculty & Staff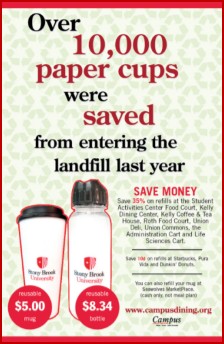 Reduce, Reuse, Recycle, Rethink. As a member of Seawolf country, it is important to remember environmental consciousness and be aware of decisions that can minimize ones' carbon footprint.
Recommended Items To Bring To Campus
Reusable Travel Mug: By using a refillable mug at campus dining locations, a 35% discount applies to fountain drink purchases.
Reusable Water Bottle: New York State has some of the best water in the country. Members of the University community can take advantage of this amenity by drinking from a reusable water bottle instead of bottled water. Use of reusable water bottles help reduce plastic consumption and impact on the environment. Visit the University Bookstore, Seawolves Marketplace and dining locations on campus to get a reusable bottle - which shows University pride!
Reusable Plates, Cups, Utensils, and Bags: Bring plates and/or utensils that can be reused in order to eliminate the use of disposables.