Skip Navigation
RecycleMania 2020
Competition Dates: February 2, 2020 to March 28, 2020
Overview
Stony Brook University is one of 400+ universities internationally to participate in RecycleMania 2020, which pits colleges and universities to compete for bragging rights over which institution can reduce, reuse and recycle the most waste and live sustainably. Over an eight-week period from February 2 to March 28, participating schools compete in various categories measuring the success of their recycling, waste reduction and sustainability efforts.
Competition Goals
A fair and friendly recycling and sustainability competition.
Increase participation in Stony Brook University's recycling and sustainability programs.
Heighten awareness in the field of recycling and resource management.
Decrease the University's carbon footprint and impact on the environment.
Decrease the quantity of waste generated by reducing, reusing and recycling.
What recyclables count in the RecycleMania competition?
The RecycleMania competition focuses on recycling all of the following products:
Bottles & Cans, Including Plastic Types #1-2 (No glass, No greasy pizza boxes)
Paper & Shredded Paper
Cardboard
Electronics & E-Waste (Electronics, Computers, Laptops, Used Cell Phones, etc.)
Food Service Organics (Donate Food, Minimize food waste where feasible)
Note: Only University-generated recyclables are permitted entry into the contest.
---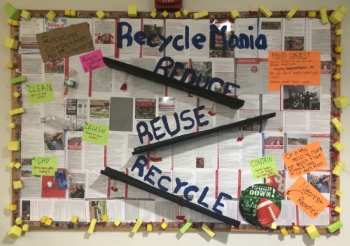 ---
Sustainability & Recycling Tips
Recycle all mixed paper (includes books, periodicals, magazines, etc.)
Recycle bottles & cans, including all plastic types #1-2 (No Glass. No Greasy Pizza Boxes)
Organize an office or Department "spring cleaning". Contact the Department of Recycling and Resource Management at (631) 632-9297 in order to request large recycling receptacles for your work location.
Help spread the word! Encourage your colleagues and friends to recycle too!
Missing a recycling receptacle?

Contact the Department of Recycling and Resource Management at (631) 632-9297

to request a recycling receptacle.
Close the loop and use recycled paper with 35% post-consumer content or higher.
Share journal subscriptions with others.
Contact senders of junk mail and ask them to have your name removed from their list.
Place intra-office memos on a central bulletin board.
E-mail whenever possible.
Use and reuse intra-office messenger envelopes.
Set up printers and copiers in energy saving modes. Centralized managed output devices (printers, copiers, etc.) should be defaulted for double-sided copying.
Turn off lights and buy energy efficient (energy star rating) appliances.
Use your own mug instead of disposable cups.
Pack your lunch in reusable containers.
Reuse scrap paper.
Use reusable bags.
Print as little as necessary.
Avoid Plastic Straws.
Donate Clothes.
Buy Local.
Buy less, borrow, or rent.
Sort your waste.
For more information on the RecycleMania competition, please visit https://recyclemania.org/