Skip Navigation
2016-2017 Campus Recreation Facilities Fee Report
Background
The Recreation Facilities fee funds the daily operation of the Walter J.Hawrys Campus Recreation Center and Recreation Field Space. These facilities offer different recreational activities and opportunities that enhance the quality of life for the campus community and promote student involvement. Over the years, Campus Recreation has greatly increased the number of programming available to our students, resulting in over 1 million visitors since 2012.
Campus Recreation manages two field complexes:
The Campus Recreation Outdoor Field Complex which is located on our West Campus, behind the Kenneth P. LaValle Stadium. This facility is fully equipped with lights, features two softball fields, a large grass area that can accommodate flag football, soccer, rugby, lacrosse, ultimate Frisbee and many other events.
South Field complex is a 9.5 acre state-of-the-art, outdoor complex located at the South entrance of the University. This complex features 2 sod fields and 1 turf field of which all fields are equipped with lights. Fields were designed to handle all of our outdoor sport clubs such as rugby, soccer, lacrosse, field hockey, ultimate frisbee, quidditch, archery and many others. When Campus Recreation field spaces are not being utilized by departmentally scheduled and approved organizations, groups, activities or programs, any Stony Brook University student, faculty, or staff may use this space.
The Recreational Facilities fee covers the costs associated with the operations of these facilities such as staffing salaries and fringe benefits; maintenance and custodial services; student employment; equipment and supplies. For more information about the Recreation Center visit http://studentaffairs.stonybrook.edu/rec.
Student Benefits/Impacts
The Campus Recreation Facilities Fee provides the following benefits to students:

State-of-the-art facilities, equipment, programs and services and highly trained and experienced professional staff
Enhances the quality of student life, community and campus pride
Encourages a culture of health and well-being in the campus community by providing programs, facilities and services that are conducive to a healthy lifestyle
Builds self-esteem while successfully reducing stress, promoting relaxation and helping students succeed academically, positively affecting student retention and recruitment
Provides employment, leadership and internship opportunities for students (between 150 to 300 student staff each year)
Enhances student involvement and a place for social interaction, promotes sensitivity to cultural diversity
Fosters friendships, enhances relationship skills, teaches vital life experiences
Student Access
Campus Recreation offers students a wide variety of programs, services and facilities, including intramural sports, fitness and wellness programs, club sports, informal open recreation, and special events.
The Campus Recreation website provides the most up-to-date information regarding the different activities that Campus Recreation offers.
Contact Info
Walter J. Hawrys Campus Recreation Center
39 John Toll Drive
Stony Brook, NY 11794-3131
General Information: (631) 63 2-7168
Email: campusrecreation@stonybrook.edu
Actual Expenditures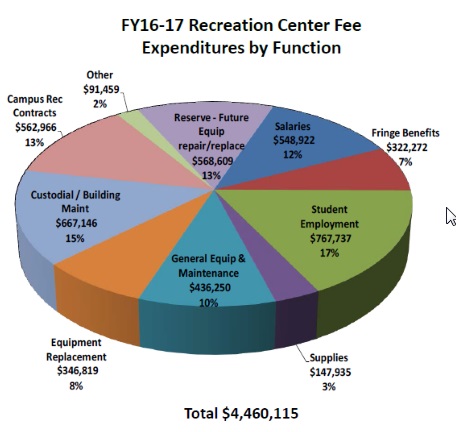 FY 16/17 Projected Expenditures by Function $4,460,115:
Salary expenditure for employees.
Fringe benefits are mandatory expenses based on the salaries paid for employees, to cover health insurance, retirement, and other benefits.
Expenditures for student employment to include staffing for the pool.
Supplies for center operations, office, and promotional needs.
Funds used for the purchase of new equipment, equipment repair and maintenance.
Equipment Replacement.
The Custodial staff maintain the cleanliness of the building, provides maintenance to the building and equipment.
Contracts include AV, Laundry, Sprinklers, and court nets in facility; field maintenance.
Other includes contractual services, computing, telephones, and office furniture.
Future expenses due to replacement needs, warranty expiration, contracts and service.
FY 16/17 Projected Expenditures by Initiative:
Student Employment
Provides employment opportunities for over 200 students
Allows for multiple levels of employment opportunities for leadership development and professional work experience for students
Student salaries increase as minimum wage increases
Fast Fact - Campus Recreation student employment opportunities are one of the most sought-after jobs on campus
Personnel Costs
Includes professional staff wages and fringe rates
Highly educated and experienced full-time professional staff and facility technicians
Fast Fact - Fringe rates are 58.71% of staffing costs
Contractual Services
Multiple service contracts including custodial, landscaping, mechanical systems and operational facility contracts
Fast Fact - The gym floor in the center needs resurfacing twice a year
Equipment Replacement and Repairs
As equipment depreciates, it is replaced with state-of-the-art pieces to provide students the best fitness experience
Equipment is replaced throughout the year in all our managed facilities
Fast Fact - We are in the first year of a 10-year equipment replacement cycle. All treadmills were replaced in 2015-16, and all ellipticals were replaced in 2016-17
Operational Expenses
This expense covers repairs, office supplies, facility supplies, tools and maintenance needs for all facilities
FAQ
Does the fee cover fitness programs such as group fitness classes and personal training?
NO - the Undergraduate Student Government provides allocations in order to allow students to access all of our fitness classes at no cost. There is a separate charge for Personal Training sessions based on what is purchased.
Does the fee cover intramural and club programs?
NO - These fees are also supported by the Undergraduate Student Government. There is a small forfeit fee charged for intramural participation to ensure team participation.
Can I access the Campus Recreation facilities and fields?
YES - This fee covers access to any of our managed facilities for open recreation utilization.
Why does the fee go up each year?
The fee increases based on external operational expenses, minimum wage increases and negotiated contractual obligations for staffing and contracted services.