Skip Navigation
2016-2017 Athletic Fee Report
Background
Stony Brook University and the Department of Athletics proudly supports 19 NCAA Division I athletic programs as an integral part of the university fabric (including men's and women's soccer, cross country, basketball, indoor track, outdoor track, lacrosse and tennis; volleyball, swimming/diving and softball for women; and, football and baseball for men). Since making the transition to Division I for the 1999-2000 academic year, Stony Brook Athletics has grown in size and scope while providing a tangible source of pride for the students, alumni and campus community.
As a nationally recognized academic institution (member of the AAU), it is extremely important to Stony Brook University that it support a strong intercollegiate athletics program which in turn helps facilitate strong student involvement. Enhanced student life and improved school spirit are direct benefits of a strong program. Increased opportunities for national brand recognition are also important benefits. Recruitment and retention experience improvement as do fundraising opportunities when institutional athletic programs experience success.
For more information on Stony Brook Athletics, please visit StonyBrookAthletics.com.
Student Benefits/Impacts
Free admission to all regular season athletic competition provided for all undergraduate students
Supports initiatives at athletic events specifically for student population (ie. Seawolves Town, contests, t-shirts, giveaways, etc.)
Provides important opportunity for amplification of Stony Brook brand locally, regionally, nationally and globally
Enhances quality of undergraduate and graduate student life
Positively impacts University recruitment and retention
Increases athletic opportunities for women
Increases opportunities for student interaction with peers from other like universities athletically and academically
Significant student employment opportunities available throughout athletic department, at contests and in support of outside events held in our facilities
Helps support more than $8,000,000 in athletic scholarships available to approximately 445 students annually
Promotes collaborative relationships with Office of Student Life to help support those students involved in dance, cheer, and marching band
Provides strong opportunity for students to build vital life skills (career planning, leadership opportunities, mental health and wellness, etc.)
Student-athletes participate in and support numerous community outreach programs
Opportunity to participate in and support teams helps to foster friendships, improve appreciation for cultural diversity, encourage social interaction, provide opportunities for stress reduction and encourage strong relationship building skills
Provides for enhanced student involvement and increased opportunities to build campus pride
Leadership opportunities for students through internships in department (marketing, corporate sponsorships, athletic communications, life skills, academics, etc.)
Promotes general health and well-being as a campus focus
Support in athletics for internship and graduate assistantships as well as other programs to help students grow in their professional area
Upgraded and new athletic facilities add to the campus landscape
Student Access
Athletics website is updated constantly to keep students, staff, alumni and community informed and connected
Intercollegiate Athletics Board (IAB) includes 3 student members among faculty, staff and senior administrators
Significant investment to increase television and radio access to Stony Brook home and away contests
Contact Info
Stony Brook Department of Athletics
StonyBrookAthletics.com
Main Office: (631) 63 2-7205
Tickets: (631) 63 2-4513
Facilities and Event Operations: (631) 63 2-4731
Actual Expenditures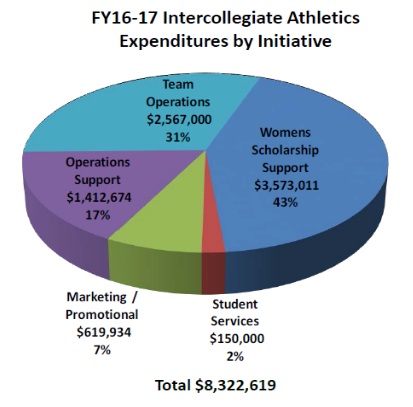 Student Services: $150,000
Helps fund positions for student staff in academic support, facilities, event operations, and equipment operations.
Fast Fact:
More than $215,000 is spent annually on student staff
Marketing/promotions: $619,934
Provides funding in support of marketing, promotions and branding of athletic events. In addition to promotions and in game activities for students (ie. Seawolves Town and pre game events), supports radio and television opportunities to bring events to students for away games or when unable to attend home contests.
Fast Fact:
All students are invited to participate in The Lot as part of Seawolves Town prior to all home football games
Support Operations: $1,412,674
Provides funding to support the operations within Athletic Communications, Academics, Life Skills, Compliance, Sports Medicine, Athletic Performance, Equipment Operations and Facilities. Each operational area is focused on initiatives that support the students who participate as athletes as well as the students who attend and participate in events as fans.
Fast Fact:
Stony Brook has approximately 445 student-athletes competing in 19 sports
Average GPA for Stony Brook student-athletes is currently 3.10
Stony Brook's Academic Support services include 8 academic advisors, 100 seat study hall, career resource lab and 26 station computer lab
Department of Athletics currently supports 8 full-time and 2 graduate assistant certified athletic trainers as well as 4 full-time and 2 graduate assistants in Athletic Performance
The department includes 2 full time positions in the Office Life Skills.
Team Operations: $2,567,000
Provides operating dollars toward team travel, recruiting, and preseason practice expenses for all 20 sport programs to allow for competitive success.
Fast Fact:
During the past 16 years as an NCAA Division I institution, Stony Brook programs have won 35 conference titles
In 2015-16, Stony Brook teams won games against 7 different institutions ranked in the top 20 nationally
Both men's and women's lacrosse finished the 15-16 year ranked in the top 20.
Women's Scholarship Support: $3,573,011
Provides funding to support female participants on 12 competitive programs. Supports commitment to gender equity and title IX requirements.
Fast Fact:
During the past 16 years as an NCAA Division I institution, Stony Brook women's programs have won 17 conference titles and one NCAA national title (including 4 straight for tennis and 4 straight for lacrosse)
More than 90 full scholarships are available to female students through athletic scholarships each year
FAQ
What does my athletics fee support?
The athletics fee helps support an NCAA Division I athletics program made up of 19 competitive sports programs at Stony Brook. The fee supports student 5 services, marketing/promotions, department operations, team operations and women's scholarships totally approximately $8.3 million annually.
Does the athletic fee give me free entrance into all Stony Brook athletic events?
All Stony Brook undergraduate students are provided free admission to regular season home contests as part of the athletics fee. While NCAA rules and conference restrictions do not always permit free admission to post season and other special events, in many cases, the Department of Athletics has been able to make special arrangements to cover some of the ticket costs for undergraduate students to also attend those events.
Why do I have to pay an athletic fee as well as a recreation facilities fee?
These two fees support two totally different areas on campus. The athletic fee is meant to help support the NCAA Division I athletic programs while the recreation facility fee helps fund the daily operation of the Campus Recreation Center and Recreation Field spaces.