Skip Navigation
Brooke Ellison, PhD, MPP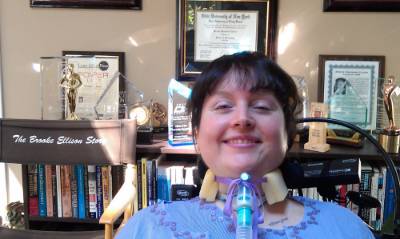 Associate Professor
Hope and Medical Ethics
Stem Cell Research
Sociology and Healthcare
Masters Courses
Stem Cells and Society
"One of the few guarantees in life is that it will never turn out the way we expect. But, rather than let the events in our lives define who we are, we can make the decision to define the possibilities in our lives."
Brooke Ellison, PhD is an Associate Professor at Stony Brook University. Dr. Ellison received her undergraduate degree in cognitive neuroscience from Harvard University in 2000, followed by her Master Degree in Public Policy from the Harvard Kennedy School in 2004. After running for New York State Senate in 2006, Dr. Ellison completed her PhD in Sociology from Stony Brook University in 2012. A policy and ethics expert in stem cell research for over 15 years, Brooke has been committed to changing the perception of life-saving science. From 2007-2014, Brooke served on the Empire State Stem Cell Board, which designed New York State's stem cell policy.
As a faculty member at Stony Brook University, Brooke is the Interim Program Director of the PhD program in Health and Rehabilitation Sciences and codirector of the Advanced Certificate in Health Care Management. Brooke has taught classes at the undergraduate, Masters, MD, and PhD levels, and focuses on medical ethics, science ethics, and health policy. Her research focuses on the ethics and policy of science and health care, particularly the intersection of disability and bioethics, and strategies to make healthcare accessible to those most in need.  Brooke also serves as the Associate Director of the Center for Community Engagement and Leadership Development, to empower underserved communities. As a result of her work in the stem cell field, in 2011, Dr. Ellison was granted an honorary degree from Rutgers University, and, in 2014, was chosen to be a World Economic Forum Young Global Leader, a position through which she works to elevate the importance of stem cell research as well as tackle challenges experienced by people with disabilities. In 2017, Brooke was chosen to serve on the Board of Directors of the New York Civil Liberties Union. In 2018, Brooke was chosen to be a Truman National Security Project Political Partner.
At age 11, Brooke was in an accident that left her paralyzed from her neck down and dependent on a ventilator. The experiences she has undergone since that time have served as the basis of the work in which she has been involved as well as the causes she has embraced. In 2002, Brooke published a memoir, Miracles Happen, which was made into a movie, The Brooke Ellison Story, directed by Christopher Reeve.