Skip Navigation
Imagine Wednesdays Reading Series
Fall 2019
Readings are held from 1 - 2:20 p.m., Melville Library, room N3045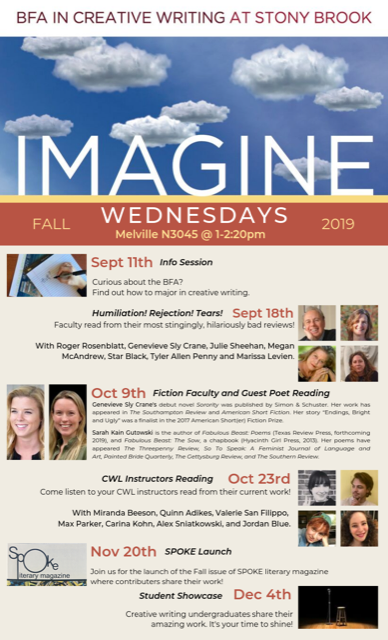 September 11
Info Session
Curious about the BFA program? Find out how to major in creative writing.
September 18
Humiliation! Rejection! Tears!
Faculty read from their most stingingly, hilariously bad reviews! With Roger Rosenblatt, Genevieve Sly Crane, Julie Sheehan, Megan McAndrew, Star Black, Tyler Allen Penny and Marissa Levien.
October 9
Fiction Faculty and Guest Poet Reading
Genevieve Sly Crane's debut novel Sorority was published by Simon & Schuster. Sarah Kain Gutowski is the author of Fabulous Beast: Poems.
October 23
CWL Instructors Reading
Come listen to your CWL instructors read from the current work! With Miranda Beeson, Quinn Adikes, Valerie San Filippo, Max Parker, Carina Kohn, Alex Sniatkowski and Jordan Blue.
November 20
SPOKE Launch
Join us for the launch of the Fall issue of SPOKE literary magazine, where contributors share their work!
December 4
Student Showcase
Creative writing undergraduates share their amazing work. It's your time to shine!