Skip Navigation
Upcoming Events and News 
*   Breaking News!  AAAS has launched its Twitter and Instagram pages!  We want to share useful information with you through the platforms you are familiar with and connect you to the exciting things that are happening on and off campus! Please follow us and share the news! 
NEWS & EVENTS!
JUNE 2023
* CKS: June 21, 2023 - July 21, 2023:2023 Joint Faculty-led Summer Study Abroad
 IN OTHER NEWS:
* E.K. Tan, AAAS Department Chair, Selected for National Humanities Center Fellowship.  Congratulations Dr. Tan!
*  Our Japanese language adjunct, Hiroko Matsuzaki won the Harvard-Yenching Institute Cross-national Interdisciplinary Research Grant for her collaborative project with Kevin Chang from Academia Sinica (Taiwan) titled "The Local and the World: Comparative Studies of Taiwanese Academics and Writers Before, During and After World War II."
* Martin Kordas won the Special Award for the 17th Japan Center Essay Competition sponsored by Canon USA
*  Prof. Ruf talks about his experience when he was a student: "Sweet & Sour Work: The Pains and Gains of Studying China" for 2022 CAS Preview Day. (Description: Sociocultural anthropologist Greg Ruf discusses the challenges and rewards on offer for American students interested in pursuing the study of Chinese culture, language, and history. Join the conversation as this SUNY graduate from Upstate New York reflects on the personal growth and professional development opportunities leading to a meaningful and engaging career – either within or beyond one's undergraduate academic major.)
*  Agnes He was elected to the American Association of Applied Linguistics (AAAL) Executive Board.  She will be begin to serve as secretary to AAAL in March 2022.
* Testimonials from our graduates!
*  Learn Mandarin with our alumni Ashley Brown through "Mandarin on that Beat"
 * Taiko Tides makes history bringing regional conference to Stony Book!
* Chris Saunders '17 was selected to be an ALT (Assistant Language Teacher)  for the JET (Japan Exchange Teaching) program. 
* William Chittick has been named SUNY Distinguished Professor.
SPRING 2023 PAST NEWS & EVENTS
Sakura Matsuri: May 7th  (Sunday)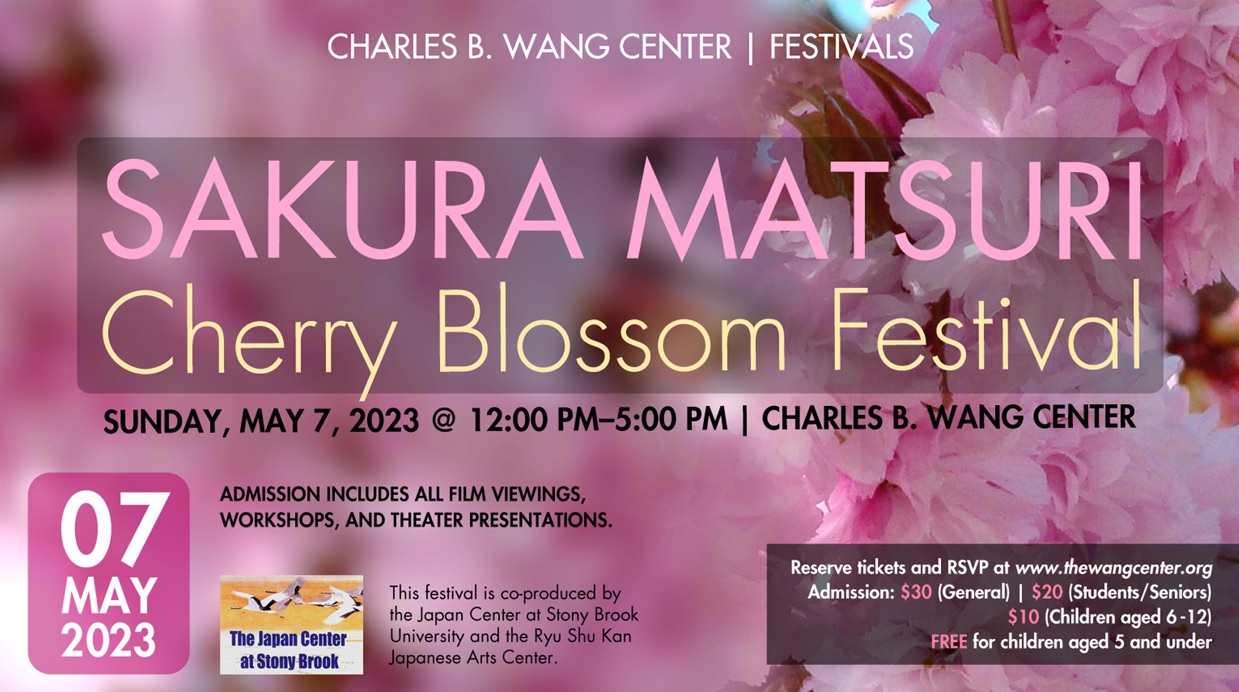 * Presidential Lecture: A Conversation with Raj Chetty.  Held in conjunction with the Gujavarty Seminar on Leadership and Values and Mattoo Center for India Studies.  Thursday, April 27, 2023 at 6:00 pm | Charles B. Wang Center Theatre

* MIC Distinguished Lecture Series:  Dr YouTube: multilingualism and multimodality in gender transition narratives on Polish social media by Dr. Joanna Chojnicka (Cardiff University). Thursday, April 27, 2023 at 3:00 PM, Frey 205
*  Multilingualism, Translation, Diaspora: Challenges and Opportunities by Moira Inghilleri, Jo Angora, and Loredana Polezzi. Thursday, April 20, 2023 at 3:00 pm at Melville Library, Room E4340
* CKS Speaker Series:  Emerging Directions in Korean/American Cultural Studies:  American Han, Speaker E.J. Koh (Poet, Writer) via zoom on Wednesday, April 19, 2023, 1:00-2:30 pm
* MIC Distringuished Lecture Series: Learner Corpora: Construction and Explorations in Chinese and Related Languages.  Friday, April 7, 2023 @ 4:00 pm by Prof. Hongyin Tao (UCLA), Zoom.
* CIS:  Distinguished Lecture - Current Trends in Indian Literatures Kannada.  Thursday, March 30, 2023 at 3:00 pm
*  GIVING DAY 2023: The Department of Asian and Asian American Studies is proud to continue being a part of SBU's annual 2023 Giving Day. As this year's university-wide theme is #HoldDoorsOpen, our department's project focuses on supporting students who are AAS double majors.  Read more!
OPEN HOUSE: Wednesday, March 29, 2023, 1:00-2:15 pm in HUM 1003.  
* CKS Speaker Series: Emerging Directions in Korean/American Cultural Studies:  When the Model Minority Fails: A Discussion of Pedagogies of Woundedness & Passing for Perfect  on Wednesday, March 29, 2023, 1:00-2:30 pm, Wang Center Lecture Hall 1.
* March 27 2023 @ 4:25 pm: Meet K-culture Series, Korean Film discussion: Kyungmi Kim Film Producer @1008 Humanities
* Diplomatic Career Seminar  Ms. Natuko Oku, Consul from Consulate General of Japan in New York , will discuss the role of diplomat, a diplomat as a career choice, and her own trajectory.  Everyone is welcome. Wednesday, March 22, 2023, 1:00-2:20 pm.  Melville Library E-4315.  Cap @ 50.
* "Ethical Memory and Re-Presenting History Across Empire: The Korean War in Rolando Hinojosa's Klail City Death Trip Series"  Dr. Sandra So Hee Chi Kim.  March 8, 2023
IN MEMORIAM: We mourn the loss of a friend and colleague, Ambassador Harsh Bhasin
* CKS Speaker Series:  Emerging Directions in Korean/American Cultural Studies:  Warring Genealogies: Race, Kinship and the Korean War.  Speaker: Joo Ok Kim via zoom on Wednesday, February 15, 2023, 1:00-2:00 pm
* Andrew Nicholson will be participating in a webinar on the History of Yoga, Wednesday, February 8, 2023 at 3:00 pm EST.
* MIC Distinguished Lecture Series: Brown - Blanche? Black.  Weaving Intersections of Language, Culture and Race through Autoethnography by Dr. Gail Prasad, York University, Thursday, February 9, 2023 at Wang Center 201.
* Stony Brook Stories of Language and Life,  Monday, February 6, 2023, 4:00-6:00 pm UNITI Center.
SELECTED PAST NEWS & EVENTS