Skip Navigation
Under Hwang's wing, well-armed students help solar cells soar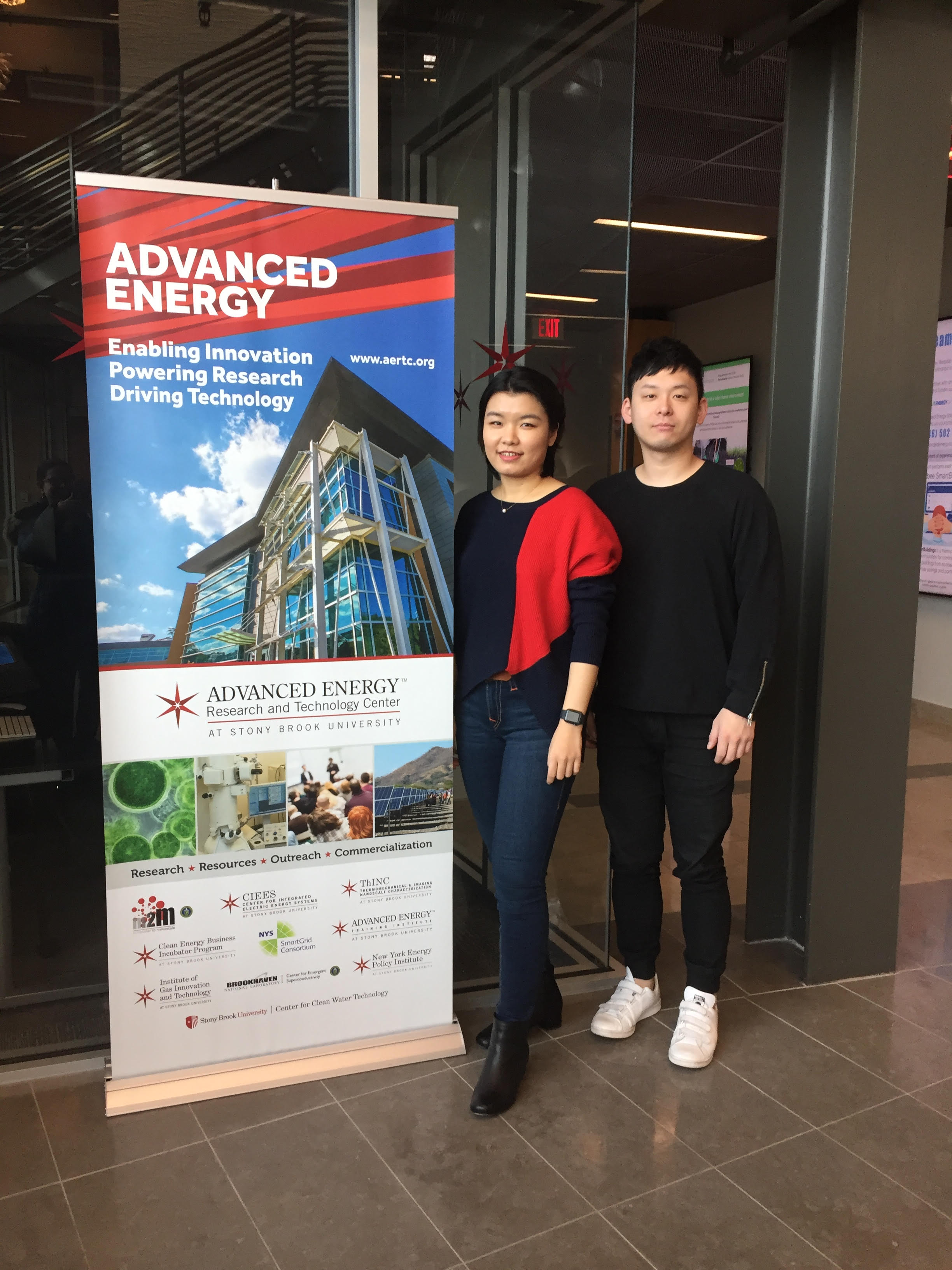 A laser focus – literally – has propelled David Hwang from South Korea to UC-Berkeley to Stony Brook University, where the photovoltaic whiz heads up undergraduate programs in the Department of Mechanical Engineering.
But while Dr. Hwang's work ethic is well-known, like any great researcher, he relies on teams of big brains to move along his delicate and complex experiments – whether he's working on nanoscale heat-transfer tech, laser-induced spectroscopy, hybrid opto–fluidic device fabrication or any of the other impressive pursuits on his high-minded dance card.
At the top of Dr. Hwang's list are two current PhD candidates, both of whom stand out, according to the associate professor, for their significant contributions to solar-cell manufacturing, with potential applications across an array of energy-manufacturing areas.
A former student of Seoul National University who logged an educational research stint at the Samsung Advanced Technical Institute of Technology in South Korea, Dr. Hwang – who's also graced laboratories at UC-Berkeley and the Lawrence Berkeley National Laboratory – deals primarily with lasers, including micro- and nanoscale laser processing and a number of laser-assisted solar-manufacturing techniques.
Enter PhD candidates Seungkuk Kuk and Zhen Wang, who each skillfully wield laser-scribing tools in an effort to maximize solar cell productivity.
Noting the "practical challenge" of competing with less-expensive (if finite and more ecologically harmful) fossil-fuel technologies, Wang – a native Chinese student on target to complete her PhD in mechanical engineering this spring – cites a dual mission: reduce the overall cost-per-watt of renewable solar energy, while "simultaneously improving conversion efficiency."
To that end, the student researcher employs laser-scribing – a technique that effects a partial cut in an object, often followed by a separate "breaking" maneuver – on thin-film solar cells, looking to "achieve building-integrated photovoltaics (BIPV) with high-power output efficiency."
Kuk, a South Korean émigré on course for a mechanical engineering doctorate in Fall 2020, also focuses his laser-scribing skills on solar-cell module fabrication, working with cells made from Copper Indium Gallium Selenide (CIGS) in tandem with state-of-the-art Perovskite, one of the mainstream thin-film photovoltaic technologies.
His challenge: to improve "serial electrical connections," while providing background data on CIGS and Perovskite solar cell modules for potential BIPV applications.
Like Wang, Kuk feels fortunate to be working under Dr. Hwang, whom he described as "a good advisor academically and personally."
"He motives me on research to get the successful results," Kuk notes. "And he supports me to be honest and have good morality as a researcher."
Wang agrees that Dr. Hwang "is a great advisor in all aspects," backed by "a strong faith in figuring out the fundamental mechanism of all the experimental results."
"He is knowledgeable and also very hard working – he always works with us in the lab," Wang adds. "He also provides opportunities for our future career path – for example, I spent last summer as a laser-processing intern at TRUMPF Inc."
Both PhD candidates also agree that the Advanced Energy Research and Technology Center (AERTC) is the ideal place to pursue such lofty engineering concepts, packed not only with the right tools but a breadth of talent.
"AERTC is a great place to work," Wang says. "I get the chance to contact and work with groups in different research areas … it helps me to broaden my vision and also explore [opportunities] in different fields."
Kuk notes a "great environment" and supportive staff in the Advanced Energy Center, similar to his experiences as a guest researcher at Brookhaven National Laboratory (BNL).
"The access to the good equipment and facilities (at BNL), with help from staff scientists, helped me to get a successful outcome on research," Kuk says.
Wang, whose PhD thesis explores laser-assisted manufacturing of multiscale superinsulation materials, came to America to explore some of the most advanced concepts in composites manufacturing and thermal conductivity. That would be a difficult transition for anyone – but Dr. Hwang and the AERTC, she says, provided everything she needed to make it work.
"Stony Brook University provides care and opportunities for all the international students," Wang says. "So, as a native Chinese student, I don't feel much difficulty coming to study in America."