Skip Navigation
Great science requires a great team
It's a truism as old as the laboratory itself: Behind every great scientist is a great research assistant.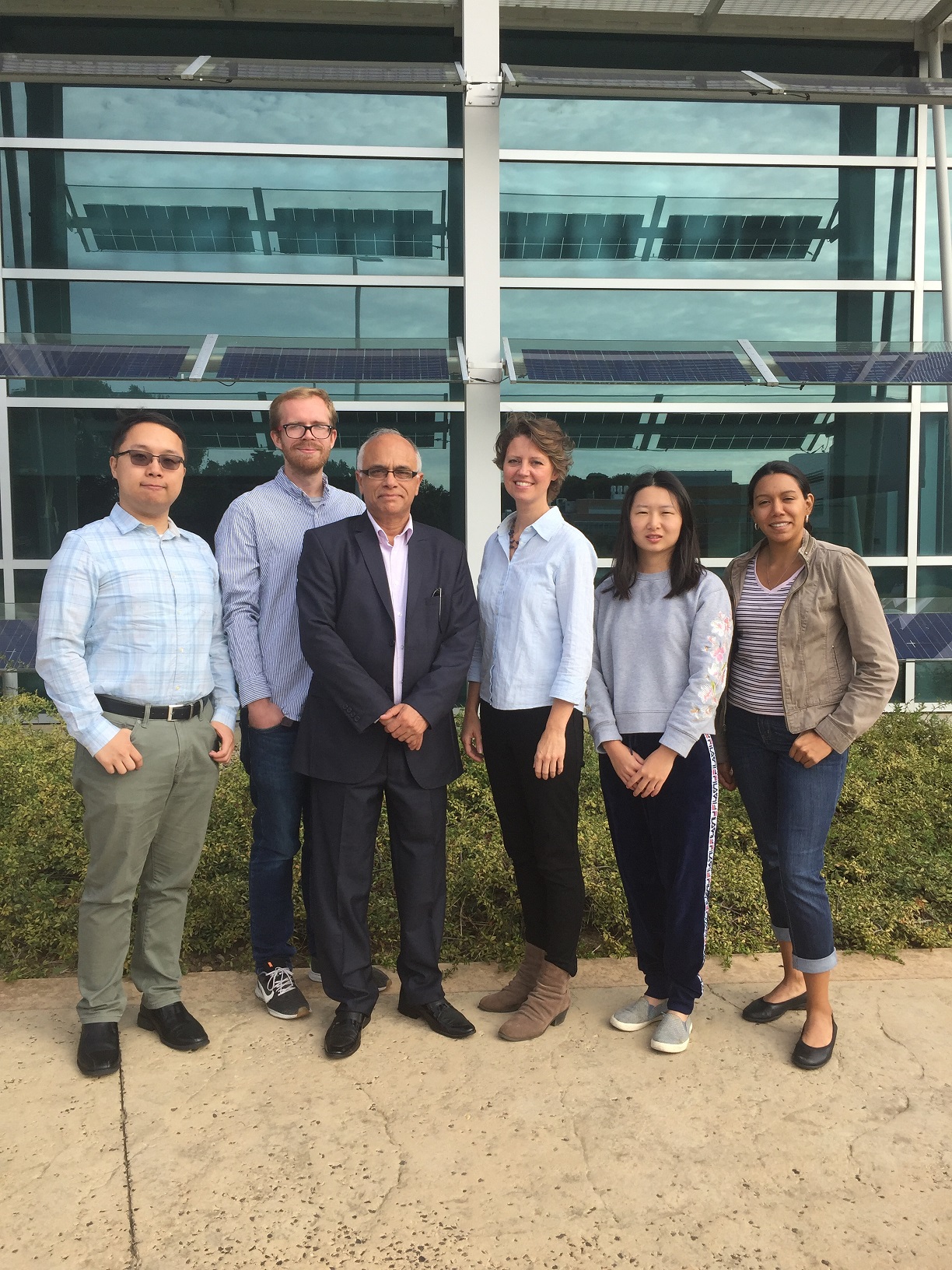 And in some cases, several research assistants. Teams of Stony Brook University students, for instance, often find themselves under the wing of a great scientist, pursuing their own discoveries while furthering the work of an established master or budding genius.
Chemical Engineering Professor Devinder Mahajan is a bit of both. As director of the Chemical and Molecular Engineering graduate program for SBU's Materials Science & Chemical Engineering Department, he keeps plenty busy – but as director of the Institute for Gas Innovation and Technology (IGIT), he rides the cutting edge of discovery on a global decarbonization mission.
The IGIT, established in 2018 by National Grid and SBU's Advanced Energy Research and Technology Center (AERTC), tracks current and future gas-system infrastructure and champions hydrogen and renewable natural gas technologies, part of what Dr. Mahajan calls a "forward-looking and futuristic approach" to energy distribution.
Understandably, between the institute and the Materials Science & Chemical Engineering Department, there's lots going on – and the professor has recruited several of the university's brightest students to his myriad causes.
Like the science itself, ranging from energy efficiency to environmental decontamination, the students in Dr. Mahajan's lab group represent a wide cross-section of specific disciplines. Fourth-your PhD candidate Jake Lindberg, who chips in on a number of the professor's projects, works primarily on a water-purification effort that uses gas-hydrates to remove particulates from wastewater.
"Devinder's expert mentoring has been a great help, allowing myself and our team of undergraduate students to move quickly and efficiently toward our goal," Lindberg says.
Third-year PhD candidate Stephanie Taboada splits her lab time between two main focuses – feedstock assessment as it relates to the production of Renewable Natural Gas (RNG), and the development of nickel-based catalysts that will aid the production of RNG from carbon dioxide emissions – and agrees that working under Dr. Mahajan has been "instrumental in my success."
"Through his connections, he was able to secure funding for me during the first half of my PhD program," Taboada notes. "He encouraged me to apply for the GEM fellowship, which I won."
That fellowship allowed Taboada to transition her research to Brookhaven National Laboratory (BNL), where Dr. Mahajan completed a 14-year joint appointment in 2015 and remains a frequent collaborator.
Multi-institutional collaborations are the hallmark of many great scientists, and again, Dr. Mahajan is no exception. Student Lori Clark, a PhD candidate in Stony Brook University's (SBU) Technology, Policy and Innovation program, has worked with the PowerbridgeNY, a proof-of-concept center and other outside agencies as a member of the IGIT workforce-development team and through other efforts related to Dr. Mahajan's work.
"I have worked at the AERTC with Devinder on the Nanosulf project, which included gas collection, analysis, technology development, pilot demonstration and business development work with [the Long Island High Technology Incubator], PowerbridgeNY and NextGen Cleantech," Clark says. "This has allowed me to expand my research skillset by training and mentoring in state-of-the-art laboratory facilities and testing our lab-developed technologies in the field. 
"Additionally, Devinder has provided me with many opportunities to network and receive training in cross-sector communication, grant-writing and technology-startup business development," she adds.
Many of the professor's students praise not only his scientific acumen but his extracurricular assistance. Taboada notes his "clear vision of how to formulate research theses and tie them to the mission of IGIT," while second-year part-time PhD student Kun Tan, who focuses on computer simulations of bioenergy-related processes, calls him "a wise adviser."
"He helped me plan my course work and offered me research opportunities," says Tan, who met Dr. Mahajan as an SBU undergrad. "I have collaborated with other students in the IGIT and created multiple [computer fluid dynamics] models simulating their experiments."
For PhD candidate Lyufei Chen, who focuses on nanomaterial characterization in the burgeoning Gas-To-Liquid field, Dr. Mahajan has been "a real model for research and solving problems."
Knee-deep in Fischer-Tropsch Synthesis – the process by which synthesis gas, a mixture of carbon monoxide and hydrogen, is converted into ultra-clean fuels and value-added chemicals – Chen runs into plenty of those. But the graduate student can always rely on the professor to help clear a hurdle.
"Under his supervision, I could work more efficiently and productively on my research," Chen says. "Working in IGIT and AERTC is a very inspiring experience in which I could contribute to the sustainable development of society."
That includes copious opportunities beyond the SBU facilities, a key benefit enjoyed by Dr. Mahajan's staff. Chen landed a prime internship this past summer at the U.S. Department of Energy's Rapid Advancement in Process Intensification Deployment (RAPID) Institute, part of the Manufacturing USA network. 
"IGIT provides me with very unique training and networking opportunities," Chen adds.
And that, ultimately, is the mark of both a great scientist and the researchers working behind that great scientist – that ability to collaborate, to tie together disparate disciplines, to unite the greater scientific community.
A lesson well learned by Dr. Mahajan's researchers.
"Under Dr. Mahajan's leadership, IGIT has opened the door to both undergraduate and graduate students who are interested in bioenergy-related research," Tan says. "The experiences learned from the IGIT labs will widen the career path of those students."