Skip Navigation
NYSTAR Profiles in Research: Driving New York's Innovative Energy Economy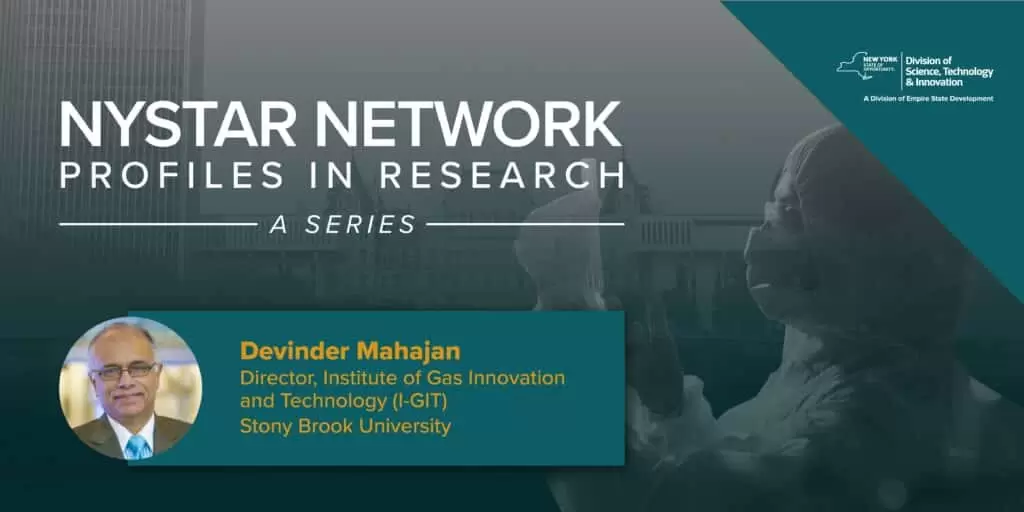 October 11, 2023
Stony Brook's visionary hydrogen expert Devinder Mahajan convenes researchers, industry executives, and public policy makers to advance renewable energy innovation
When it comes to navigating the intersection of academic research, public policy and industry funding, Devinder Mahajan has a strong sense of mission for the Institute of Gas Innovation and Technology (I-GIT) at Stony Brook University, part of the NYSTAR innovation network.
"We are a university. Our job is to keep everybody honest," Mahajan said.
That honesty is born from a career that includes decades of research with hydrogen, cultivation of his own innovations, and work in public policy. As director of I-GIT, Mahajan serves as a crucial through line to connect a variety of stakeholders driving New York State's renewable energy economy and status as a global leader in the field.
"Because we are in academics, we are in neutral territory, so industry isn't worried about others stealing their good ideas," Mahajan said. "We provide the platform, they fund us, but on the condition that we will not try to appease them with any tilting of results. And they understand that."
"Recently we have Coalition of Renewable Natural Gas and Meta, Facebook's parent company, funded ongoing study on Carbon Intensity (CI) as the latter looks to decarbonize their data centers," Mahajan added. "So, we must be doing something right."
Founded in 2018 as a partnership between National Grid and the Advanced Energy Research and Development Center (AERTC) at Stony Brook, I-GIT focuses on hydrogen and renewable natural gas throughout the entire chain – production, storage, transport and end-user application.
It is the latest stop for Mahajan on his hydrogen research journey, which started during his doctoral studies at the University of British Columbia. There, his work focused on the biochemical field, studying catalytic hydrogenation reactions to produce chemicals for drug manufacturing. That background in hydrogen brought him to Long Island and the Brookhaven National Laboratory for postdoctoral hydrogen work with oil and gas companies looking for ways to transport natural gas.
When he arrived at Stony Brook to help start the Chemical Engineering program, his focus shifted to hydrogen's potential with renewable (Biomass) energy. Now, as director of the Institute of Gas Innovation and Technology (I-GIT), he is guiding projects from large scale hydrogen storage and distribution to non-chemical wastewater treatment, leading both discovery in and commercial applications for clean energy technology.
Convening the Stakeholders
His wide-ranging resume – in addition to university laboratory research, Mahajan holds 15 patents, published over 300 papers, and has served seven years as a Jefferson Science Fellow with the U.S. Department of State – has given Mahajan a better understanding of how to bring together academics, industries and government agencies to implement innovations that address climate change, energy affordability and economic sustainability.
"As faculty researchers, we tend to have this knack of discovering something and thinking this is the greatest thing in the world," Mahajan said. "We don't want to hear anything else except that this is the best thing that ever was.  Looking at national and international energy policy and working with industry was a reality check for me. Now when I meet with businesses, I don't talk at them, I listen. And that's important because industry is the one who is going to take the research and make it commercial."
That commercialization process means the discussions for Mahajan don't end with industry executives.
While one of the fundamental motivations of the work is to cultivate solutions to mitigate climate change, working through the implications and practicality of bringing new tech to market is a key part of his development process.
"Fundamentally, what we want to make sure is the public is the one that benefits the most," Mahajan said. "In developing advanced technologies to address environmental issues, we want to make sure the price points do not choke the consumer. If something will cost three times more, that is not going to go over well with the consumers. So, while we make sure these things are cutting edge, we also want to make sure they are affordable."
Workforce Development
I-GIT has employed more than 28 students from Ph.D. candidates to master's students and undergraduates. The investment creates a pipeline of talent who will develop the next generation of hydrogen technologies.
While Mahajan has always advocated for workforce training for students in his research and development facilities, he did not expect that at I-GIT he would also be working with trade unions.
For the last three years, labor leaders have approached Mahajan to discuss the future of the energy sector and the training available to transfer their members' skills into a hydrogen-based industry.
"As director of the institute and a university researcher, I didn't think I'd be talking with unions, but my job has evolved to help the public as both consumers and as part of the workforce, understand what we're doing," Mahajan said. "This has become very important to what we do."
Prioritizing Collaboration
What started with three projects financed through NYSERDA and industry funding has expanded to 12 projects with partnerships across the NYSTAR network. Because I-GIT is part of the Advanced Energy Research and Development Center (AERTC) at Stony Brook, Mahajan regularly partners with the Center for Integrated Electric Energy Systems (CIEES) and other centers – all of which are backed by investments from Empire State Development's Division of Science, Technology, and Innovation (NYSTAR).
These collaborations have been crucial to the work Mahajan directs at I-GIT, leaning into specific expertise which has allowed New York State to emerge as a leader in renewable energy innovation.
With a reputation for rigorous independent research, a track record for collaborating with industry and public policy leaders, and an eye toward the broader impacts for labor and consumers, Mahajan has shaped I-GIT into a key piece of the New York's science, technology and innovation infrastructure.
"What these projects have helped to do is blur the lines and create more partnerships," Mahajan said. "There's a constant parade of industry coming to the institute and the reason for that is because we had a vision, and we got lucky with our timing. We were five years ahead of the curve in hydrogen R&D and because of that, companies are seeking us out to work with us to help decarbonize their operations."