Pierre Arcand
Quebec
Minister of Energy and Natural Resources
---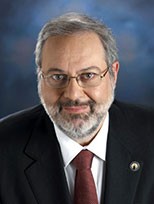 Pierre Arcand began his career in the 1970s. He worked primarily in radio as a journalist, news director, vice-president, general manager and co-owner of the station. In the early 2000s, he was appointed president of Corus-Quebec, which then owned 14 radio stations throughout Quebec. He also served on the boards of directors of Tel-Aide and the Fondation pour enfants diabetiques.
He was elected MNA for Mont-Royal riding in 2007. During his political career, he has served, for example, as Minister of International Relations, Minister responsible for La Francophonie, and Minister of Sustainable Development, the Environment and Parks. He previously served as parliamentary assistant to the Minister of Economic Development, Innovation and Export Trade and the Minister of Tourism, and to the Minister of Finance and the Chair of the Conseil du tresor. He was also vice-president of the Committee on Education and a member of the Comite ministeriel de la prosperite economique et du developpement durable.
Mr. Arcand was re-elected MNA for Mont-Royal riding for the fourth consecutive time on April 7, 2014. He is now the Minister of Energy and Natural Resources, the Minister responsible for the Plan Nord and the Minister responsible for the Côte-Nord region.
---
---