Skip Navigation

What is tutoring?
A tutor possesses experience and knowledge in a subject area, exceptional study skills, and is able to use that experience and knowledge to guide others.
A tutor helps students improve their learning and study strategies in order to promote independence and empowerment.
While tutors provide students with timely and meaningful academic support, tutoring does not replace class attendance or regular interaction with faculty
---
One-on-One Tutoring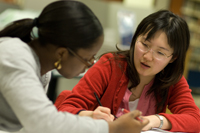 In one-on-one tutoring, a tutor is matched with only one student. This enables the session to be tailored to the needs of the individual student. One-on-one tutoring is offered on campus through the   ASTC and the  Writing Center.
---
Small Group Tutoring
Group tutoring occurs when a tutor leads a single session with a group of students who need assistance with the same material. Tutoring groups ideally include two to five students enrolled in the same course. Students benefit from sharing thoughts and opinions with their peers under the guidance of their tutor. Group tutoring is available through the   ASTC.
---
Walk-In Tutoring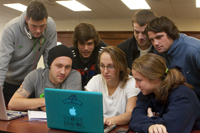 During walk-in tutoring, one or more tutors could be available at any given time working with a number of students. This provides students with an opportunity to get assistance on an as-needed basis. Some services that provide walk-in tutoring are the   Residential Tutoring Centers, the   Math Learning Center, the Biology Learning Center, and the Chemistry Learning Center.   Click here  for a schedule of walk-in tutoring provided across campus.
---