Skip Navigation
Tabler Quad
Tabler Quad is known as the Undergraduate College for Arts, Culture & Humanities. It can be found on the south side of West Campus, past Roth when coming from the academic area of main campus.
Hours of Operation:
| | |
| --- | --- |
| Monday-Friday | Saturday & Sunday |
| 11:00AM-12:30AM | 11:30AM-12:00AM |
Tabler Center for Arts, Culture and Humanities: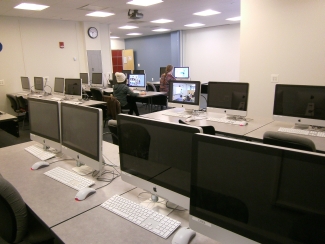 Description: The Tabler Center for Arts, Culture and Humanities, or the TCACH (pronounced tack) sits between Hand College and Toscanini College. If you're feeling adventurous, take a walk up the Tabler Steps. The Steps leave you right at the main entrance to the TCACH. You enter in on the second floor, which is the same floor as the SINC Site. Head downstairs if you're feeling hungry and grab some Dunkin' Donuts!
About This Space: The TCACH is comprised of two floors, the main study area being the first floor. This area is accessible via the stairway on the right hand side after the SINC Site when entering from the second floor. If you're coming in on the first floor, you'll notice the main study area right away. The first floor has multiple couches, as well as round tables that are available for student use. With each table capable of seating up to four people and roughly fifteen tables to choose from, the TCACH has a lot of room to offer. Outlets can be found throughout the space, so feel free to bring your laptop with you. If you're more inclined to leave your laptop in your room, you can use the Digital Arts Media Lab (SINC Site), which is located on the second floor. Fully equipped with 21 Apple iMac computers, this location offers everything that a standard SINC Site does, plus a few more programs that are Apple specific (GarageBand, iWeb, iWork, etc.).

Noise Level: This is a versatile space, used for not only studying by students but for programs and small performances as well. During a typical day, the TCACH can be considered a medium level of noise. Keep your eye open for Student Life updates, however, as they will tell you when performances (Open Mic Night, Talent Show, Mr. Tabler, etc.) are going to be held downstairs. During these times, you may want to seek refuge in the SINC Site or at a different location.