Skip Navigation
Both Kelly Quad, the Undergraduate College for Human Development (HDV), and Roosevelt Quad, the Undergraduate College for Global Studies (GLS), are in close proximity to one another and thus share a center. If you're on foot and coming from the SAC, walk up Campus Drive until you get to the four-way stop near the new West Side Dining. You are now in the neck of the woods of both Kelly Quad and Roosevelt Quad.
  Hours of Operation:
| | |
| --- | --- |
| Monday-Friday | Saturday & Sunday |
| 11:00AM-11:00PM | 5:00PM-11:00PM |
Center for Global Studies and Human Development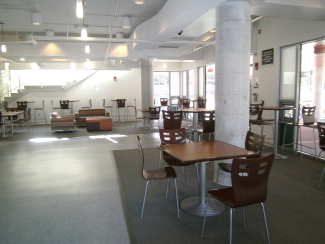 Description: To get to the HDV/GLS Center, follow the same directions given to get to Kelly and Roosevelt Quad. You can also hop on the Outer Loop bus or the Railroad Route bus and get off at the first stop, which will put you in the same exact area. Continue across Circle Road, with West Side Dining on your right and Lauterbur Hall on your left. The Center is just beyond Lauterbur Hall, on your left hand side.

About This Space: The HDV/GLS Center is divided into two floors, with the top floor dedicated mainly as classroom spaces for 101 classes held by both quads. The lower floor, into which most people enter, is a space utilized by students for their own study purposes. Providing a mix of high and low tables, as well as couches, the study space at the HDV/GLS Center places no limit on the group size with which you may want to study. Each table is capable of seating four people and there are approximately 15 tables available for use. Outlets are available for your use, so whether you're looking for a place to sit and study with your laptop or a location to do some reading and homework for classes, the HDV/GLS Center has a lot to offer. As for location, it can't be beat. The Center for Global Studies and Human Development is situated directly across the street from the new West Side Dining facility, which doesn't shut its doors until 3 a.m.

Noise Level:  Low to medium noise level.