Skip Navigation
Charles B. Wang Center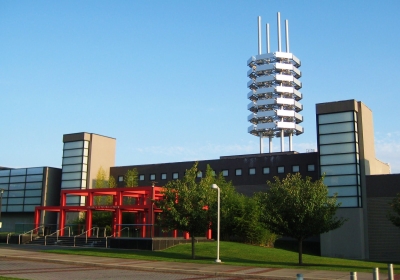 The Wang Center is dedicated to the understanding of Asian and Asian American Culture. It hosts a number of lectures throughout the semester and is one of the more modern spaces on campus, in both architecture and cultural outlook. The Wang Center can be found next to the Staller Center and across the street from the Administration Building. Its most noticeable outdoor feature are the red beams that are part of its structure. 
Hours of Operation:
| | |
| --- | --- |
| Monday-Friday | Saturday & Sunday |
| 11:00AM-8:00PM | 12:00PM-8:00PM |
Main Lobby: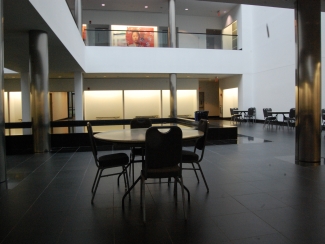 Description: As soon as you enter the Charles B. Wang Center, the potential it presents is undeniable. You have a multitude of options to choose from in regards to atmosphere, though all are relaxing and conducive to student productivity. 

About This Space: If you're looking to stay on the same floor as the food service, head over near the large red pillars found just off to the left of Jasmine. This space opens up enough to accommodate a number of round tables that seat up to six people each. Single seating couches are also available along this floor, near the door that exits to the Administration building. During the warmer months, access can be gained to the outside terrace through Jasmine itself. It overlooks a bamboo enclosed water feature that is incredibly peaceful.
If you're looking for a new place to study, head on downstairs via any one of the spiral staircases you happen to come across. The tables downstairs have a bit more seclusion because you aren't near the flow of traffic that comes with being directly outside of Jasmine. Just like upstairs, numerous tables with multiple chairs are available for your use. Bring some change with you, because the fountains downstairs have been known to grant some students' wishes for As...those that have studied there of course!

Noise Level: The noise here stays mostly quiet but can fluctuate depending on a lecture being given or the flow of traffic to the eatery. This is a peaceful place to study and particularly coveted during midterms and finals.