Skip Navigation
Computer Science
The Old Computer Science building can be found on the southern outskirts of main campus. It is one of the last academic buildings before going into the residential area of main campus. Computer Science is used by a large portion of the residential student population as a way of getting to the Javits Lecture Center, Humanities, and SBS. It sits between Roth Quad and the Javits Lecture Center. 
Hours of Operation:
| | |
| --- | --- |
| Monday-Friday | Saturday & Sunday |
| 6:00AM-11:00PM | 6:00AM=11:00PM |

Main Level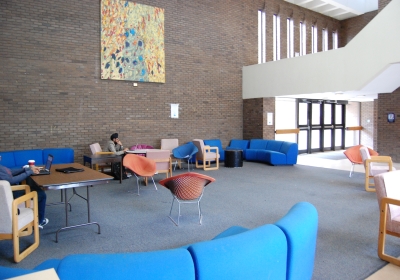 Description: The lower level is the space that many students see as they are walking through Computer Science, either going to or from the residential areas. Though there are some spots to sit in the upper level, more seating is available on the main level.
About This Space: As you are walking through, you may have seen students sitting on one of the many couches or chairs available and studying using either laptops or notebooks. That is because they know this is a wonderful place to take some time between their classes (which are conveniently located nearby in one of the many lecture halls found either in Javits or Humanities) to study their material. Couches and long, portable tables make this area conducive to group studying, though individual studying has been known to be popular. Multiple outlets can be found throughout the space
Noise Level: Though it is off the beaten path, this building is a connection between the residence halls and main campus. Because of this, it can get fairly noisy. During the times of the day when there is no high traffic volume, this location can be quiet. During periods between classes, the noise would be closer to mid level volume.
New Computer Science
 

The New Computer Science building can be found on the southern outskirts of main campus.The new building includes a mix of faculty and administration offices; research and teaching laboratories; a large wireless teaching lab; and shared conference areas. It's also home to 18 research labs and five innovative research centers which include National Security Institute, Center for Dynamic Data Analytics, Center for Mobile Computing, Center for Smart Energy and Center for Visual Computing.

   Hours of Operation:

| | |
| --- | --- |
| Monday-Friday | Saturday & Sunday |
| 7:00AM-8:00PM | Card Access Only |