Skip Navigation
Visually Intensive Classroom:
Psychology A-146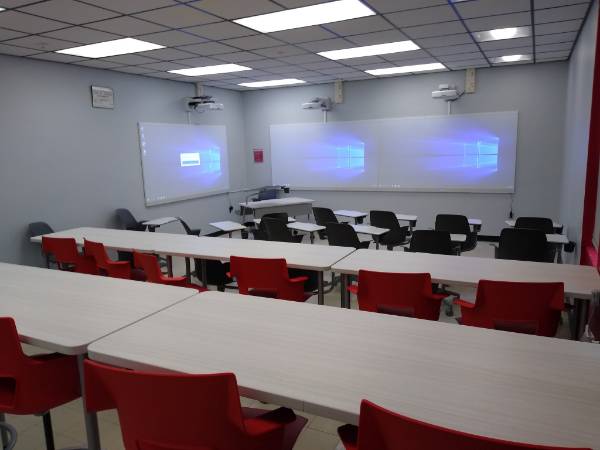 Psychology A-146 offers an intimate classroom setting with no distractions.  This room features a two-wall SPAN device, which is ideal for sharing, in real time, student drawings, concept maps, images, and more. The SPAN digital canvas will remember your classroom work even when you're out of class, and students can upload content from anywhere in the world.  Moveable furniture makes group work, rearranging, changing focus, and  redirecting student activities a breeze.  With tiered table seating in addition to tablet-ready classroom seats, you can redefine your lectures to be more engaging, discussion-friendly, and effective.
Faculty can request their course to be held in the ALC if they are designing their course curriculum for active learning. Courses designed for active learning gear more toward the faculty member facilitating student collaborative work to learn or to reinforce material taught previously. Reservations for the ALC are scheduled through the   25Live scheduling system, just as any other General Purpose Classroom on campus is reserved. 
User Guide for Psych A-146 / User Guide with Nureva Span
Moveable furniture, tablet arm chairs with storage
Digital Canvas-"Span" (on two walls)
Case studies, group work, intimate collaborative classrooms, concept-driven interaction
Policies and Agreement to use the Active Learning Classroom:
Faculty facilitating instruction in the Active Learning Classroom are asked to assist in following best practices for utilizing equipment and to assist in the long-term care of technology equipment provided. 
No food or drink (other than sealed water bottles) are permitted at the workstations.

For the security of the users personal data, all users should log out of the workstation before the end of the class session.

As a courtesy to others, users should remove any garbage, instructional materials, and personal items from the workstation at the end of the class session.

Instructors and users should ensure all workstation equipment and furniture is restored to its default configuration at the end of the class session.

No user shall remove any equipment from the workstations, for any purpose.